Aoife Mahon, Principal of New Ross Educate Together National School, describes her experience of the divestment process. In 2012 the Forum for Patronage and Pluralism recommended that schools with religious patrons should 'divest' to alternative patrons to increase school choice. Religious-run schools with dwindling numbers were to amalgamate and their buildings used to house equality-based schools. Parents in 25 areas choose Educate Together as the patron they wanted to run their divestment school in a Government-run survey.  
So far only nine Educate Together schools have opened as part of the divestment process, many in substandard or temporary accommodation.  
Five years after opening, New Ross ETNS is still in prefabs.   
 School accommodation is one of the key issues of Educate Together's election awareness campaign: 'Treating All Children Equally'.  Read more about the campaign here. 
"August 2015 was a whirlwind time for us in New Ross ETNS. We were finishing preparation works on our temporary accommodation, getting furniture delivered, buying books and trying to pull together everything that we needed to open a school. The to-do lists were endless and indeed they still are!  Fast forward to January 2020 – much has changed but not enough.
Former Education Minister Ruairi Quinn's notions of divested schools rang in our ears as we watched the three Catholic schools in the locality who had amalgamated finally move into their new building in January 2017. We waited eagerly for the phone call to tell us where our permanent accommodation would be. However, early 2018 saw us faced with an enrolment cap. Our intake of pupils was to be restricted to half-stream – meaning we could only enrol 13 Junior Infants per year, despite a very high demand for places.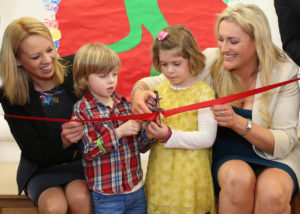 A letter in late March 2018 stated a building had been identified by the Department of Education and Skills (DES) but to date, there has been no progress on this. Four and a half years since we opened with a growing school population and with more prefabs needed for September 2020, we greet the DES like the familiar friend you meet in the local shop with the parroted refrain, 'Any news?'  We hope there soon will be news.
Our temporary accommodation is adequate, but it comes with drawbacks: it is after all temporary. The uncertainty pervades every aspect of our days: will we plant a sensory garden? Is it worth it if we are moving? Can we plant it in pots so it can be easily moved? Will it grow properly if it is in pots? We wish to plant roots so we can grow. Nietzsche is quoted as saying 'for a tree to become tall it must grow tough among the rocks'. Divestment is our rock.
The Government's divestment programme has surrounded us with a degree of uncertainty. We know we are in our current temporary building until June of this year. Beyond that we hope for news soon. What we are certain of is we – unlike our building – are not temporary and we are a part of the future of New Ross."