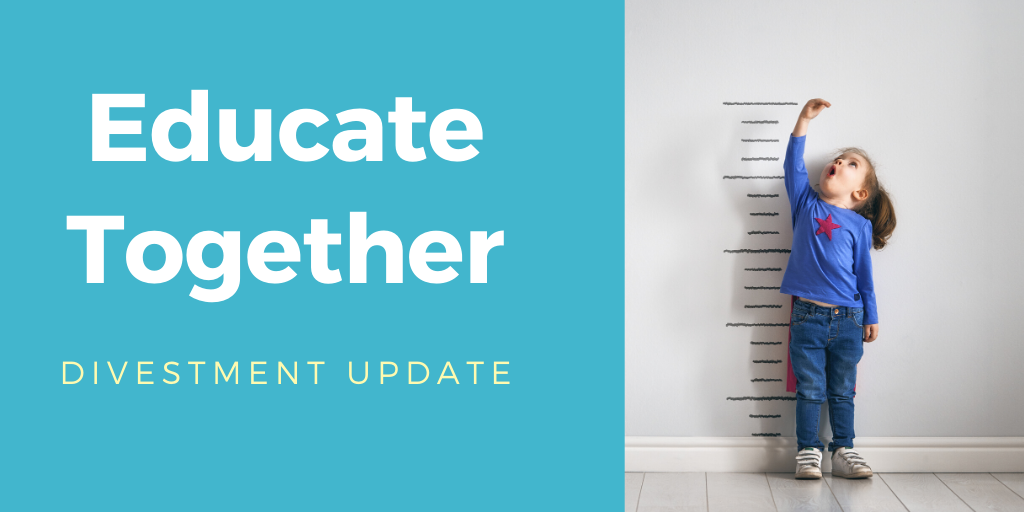 In 2011, the Government established the Forum on Patronage and Pluralism in the Primary Sector, with the stated aim to create more diversity and inclusiveness in the primary school system. Parental surveys were conducted in 43 areas around Ireland and recommendations were made for Catholic primary schools in 25 areas to 'divest' to Educate Together.
As of October 2019, Educate Together has succeeded in opening schools through the process of 'divestment' in :
Dublin 8

Fermoy, Co. Cork

Malahide/Portmarnock, Co. Dublin

New Ross, Co. Wexford

Newtownwhite, Co. Mayo

Tramore, Co. Waterford

Trim, Co. Meath

Tuam. Co. Galway

Westport. Co. Mayo.
The main obstacle in opening divestment schools is the sourcing of accommodation.
Although the initial intention of the divestment process was that an Educate Together national school would be established in a building that had been vacated by a Catholic school this has so far only been the case in one instance. Consequently the parameters have been extended to include any State-owned property that is now in disuse and may be suitable to convert to a school.
In order to locate these properties, Educate Together is now requesting supporters in the following areas to assist our efforts to provide in campaign for the equality-based national schools they were promised in 2013.
Arklow, Co. Wicklow

Clonmel, Co. Tipperary

Cobh, Co. Cork

Dungarvan, Co. Waterford

Kells, Co. Meath

Killarney, Co. Kerry

Loughrea, Co. Galway

Nenagh, Co. Tipperary

Palmerstown, Dublin 10

Passage West, Co. Cork

Shannon, Co. Clare

Whitehall, Co. Dublin
Recommendations
The government pledge to increase non-denominational and multi-denominational schools to 400 by 2030 is welcome. However, if divestment of schools is to play a significant part in this development, it is imperative that the Department of Education and Skills revises current practices. As the foremost provider of equality-based schools and the main choice of parents during the 2011/12 surveys, Educate Together suggests the following adjustments: 
The process of sourcing accommodation is most effective when the Department of Education and Skills consults with both Educate Together and the local community. Educate Together suggests that there should be wider and more effective consultation on accommodation offered in order to gain more clarity on the future growth and development of the schools.

The divestment programme must be properly funded and resourced for progress to be made. Annual ring-fenced funding needs to be put in place in the Department of Education to support the building of new schools and the reorganisation and amalgamation of existing facilities.

A dedicated team should be established in the  Department of Education and Skills to advance the divestment programme.

The State must ensure that buildings offered by Church authorities are appropriate and realistic. Educate Together will not open schools that are inaccessible, that are not viable in the long term, and do not serve the needs of the communities they are meant to serve.

The divestment programme should be rolled out to other areas of the country not yet consulted. Providing all children living in Ireland with schools in which they are equally valued and treated is essential for the future health of our education system.
If Ireland is to have a balanced education system in which children of all backgrounds are respected, then real progress on divestment must be made.
Sign up to our divestment mailing list here.