Help raise funds for Educate Together
Bake, sing, raffle, run – there's no shortage of ways to help Educate Together raise much needed funds. Every cent helps and however you choose to raise funds for Educate Together, remember to have fun doing it! We would be delighted to have your support so if you'd like hold a fundraiser on our behalf or have any questions about organising an event, please get in touch with our fundraising team on 01 429 2500 or at fundraising@educatetogether.ie. Below you'll find a copy of our Donor Charter and Fundraising Safety and Legal Guidelines.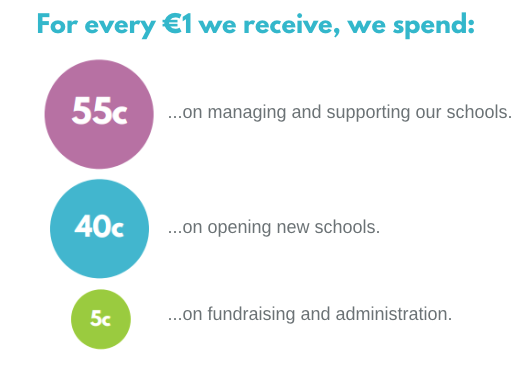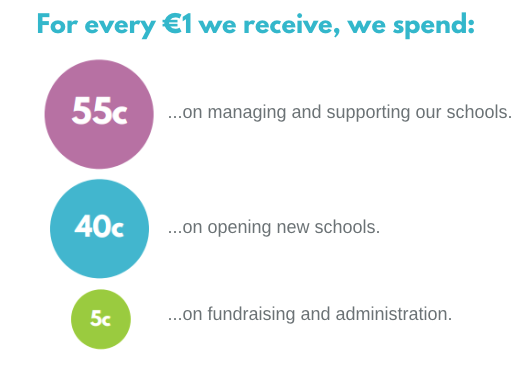 One Day Together 2019
In 2019, One Day Together took place on 25th October and many of our school communities and supporters came together to raise some much needed funds for Educate Together. Here is a taster of what some of our schools did to mark the day:
Newbridge ETNS: "At Newbridge Educate Together, we mixed all classes together to do some beautiful artwork! We chose words that represented our school. The staff and students then compiled all 400 pictures together in a "Together Collage'!"
Fermoy ETNS: "Fermoy ETNS held a dress-up day for One Day Together. Teachers also joined in the fun. Our principal Aideen was "The Greatest Showwoman" and our teacher Claire was a Unicorn."
Balbriggan ETNS: "For One Day Together this year we held a Self Expression Day and a Human Rights Concert."
Rathfarnham ETNS:  "At RETNS we held our annual Hallowe'en assembly in the morning, which was greatly enjoyed by our school community. As always, our Student Council voted for  the winner of the staff dress-up competition.  Our assembly was also a fundraiser for  the 'One Day Together' campaign, raising funds for Educate Together."
Swords ETNS: "We held a dress-up day for One Day Together this year. Our theme was "The little Miss/Little Mr " books for our staff dress up while students dressed up in their favourite costumes."
Westport ETNS: "Westport ETNS held a pyjama and movie night for One Day Together this year. A big thank you to the W Cinema in Westport for sponsoring the popcorn for the night!"
Citywest ETNS: "Our wonderful parents association organised a disco for One Day Together this year and we all went in fancy dress."
Sandymount Park ETSS: "For this year's One Day Together, our school community organised a bake sale and held a dress up day."
Limerick ETSS: "Limerick ETSS held a Halloween-themed day for One Day Together, as well as dressing up, we also held a bake sale."
Bremore ETSS: "The student council at Bremore ETSS organised a scare room for their fellow students and staff."
North Wicklow ETSS: "We organised a 'spooktacular' sensory experience in our ASD class for to raise money for a number of causes close to our hearts, including One Day Together."
Firhouse ETSS: "At Firhouse ETSS, a fancy dress day was held for One Day Together 2019. Everyone got involved, including the teachers, and there were some amazing costumes on show!"
A huge thank you to all our schools who took part and made this One Day Together so special!