2019 saw Educate Together's first ever second-level art competition and exhibition. As well as creating an opportunity for our students to engage creatively with their Ethical Education curriculum, this competition was run to find nine student-created images which could be made into posters representing each strand of the curriculum and hung in every existing and future Educate Together second-level school!
The competition garnered almost 100 entries from across nine schools. Guest judges, installation artist, Aideen Farrell, and fashion designer, Zoe Redmond, along with Educate Together's own Second-Level Education Officer, Laura Dooley, & Project Officer, Orla Sadlier were blown away by the creativity, talent and engagement evident in all of the entries.
A prize-giving for the winning entrants and exhibition of their 12 entries was held at the Science Gallery, Dublin. Along with the students themselves, many of their parents, guardians, siblings, friends and teachers were also in attendance!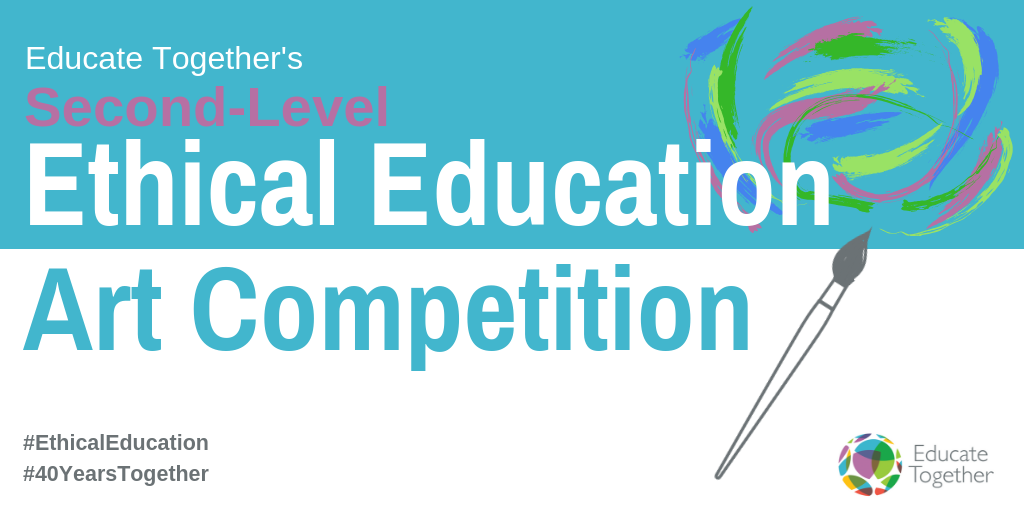 Competition results
Strand 1 – Values: Students explore what is of value to them and what has influenced this. The concepts of morality, principles, facts and opinions are also examined.
Winner: Kate Prokopcenko – Celbridge Community School
Strand 2 – Making Moral and Ethical Decisions: Students apply five approaches to Ethical Decision Making (Utilitarian approach, Rights approach, Fairness or Justice approach, Common Good approach, Virtue approach) and consider different ethical dilemmas using these approaches.
Winner: Ériu Dalton – Stepaside Educate Together Secondary School
Strand 3 – Beliefs and Worldviews: Students investigate different ideological standpoints and religious beliefs and identify how these might impact on an individual's worldview.
Winner: Jaslin Chera – Kishoge Community College
Strand 4 – Different Teachings and Perspectives: Students study a number of texts, myths and narratives and consider how these may have influenced human behaviour and thought.
Winner: Alicia Grozavu – Kishoge Community College
Strand 5 – Diversity in Ireland: Students explore diversity in a local and national context and think critically about the experience of minority groups in Irish society, particularly experiences of discrimination.
Winner: Ian Lorenz Silva – Kishoge Community College
Strand 6 – Migration: Students develop an enhanced awareness of the language associated with migration; discover how migration has had an impact on Ireland and; critically analyse how the media reports migration in different contexts.
Winner: Nabilah Mohammad – Hansfield Educate Together Secondary School
Strand 7 – Power and Participation: Students reflect on and assess the power and decision-making processes in their school.
Winners: Elliot Greene, Fea Maher & Greta Whipple – Sandymount Park Educate Together SS
Strand 8 – Gender Equality: Students research, debate and reflect on issues related to gender equality in national and international contexts.
Winner: Jasmine Laokhunthot – Sandymount Park Educate Together SS
Strand 9 – Global Citizenship Education: Students increase their knowledge of the 17 United Nations Sustainable Development Goals and take action in relation to at least one of them. Students work together to achieve a Green Schools Flag, Yellow Flag or WorldWise Global Schools Passport Award for the school.
Winner: Rabiya Zubayraeva – Kishoge Community College
Highly Commended:
Ellen Grey – Kishoge Community College
Eve Wilson – North WIcklow Educate Together SS
Jodie Chalkey – Kishoge Community College