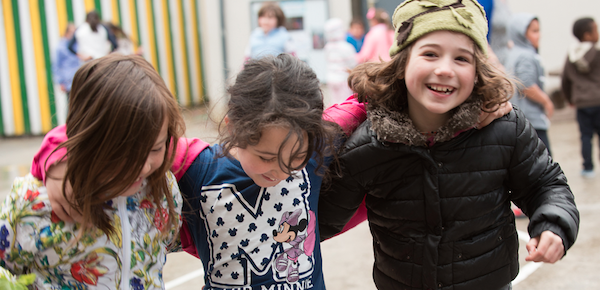 "Educate Together is about inclusion and diversity, but then also about innovation and best practice, and bringing all those things together at the same time is really powerful."
Darren Ryan, CEO of Social Entrepreneurs Ireland and former Educate Together student
Corporate partnerships
Educate Together's work is supported by a number of mutually beneficial corporate partnerships, enabling Educate Together to access technology, expertise, core services and funding support. At the moment, Educate Together is currently partnered with Paypal, Teamwork.com, Folens, Brady Insurance, and Science Gallery Dublin.
Educate Together was awarded a million dollar grant by Salesforce.org, the philanthropic arm of Salesforce, in 2018-19. The grant, which is Salesforce.org's largest European grant to date, has been awarded to the Educate Together national office on the basis of the equality-based school movement's continued commitment to student engagement, community involvement, and equality of access at school.
Educate Together also featured as The Ireland Funds charity partner at their 2019 New York Gala and was warmly endorsed by Saoirse Ronan on the night.
If your organisation shares our vision and is looking for a way to make a tangible impact on Irish education, why not get in touch to explore partnership opportunities with Educate Together?
Company matching is also a great way a corporate organisation can support the work of a charity. This is where organisations financially top up or match the amount raised by their employees. Our fundraising team can be reached on 01 429 2500 or fundraising@educatetogether.ie
Philanthropic and other funding bodies
Educate Together has an outstanding track record in maximising return on fundraised investment. Major philanthropic and other funding bodies have trusted us to put their funds to good use, and we have delivered. Here are just a few of our major partners over the years: