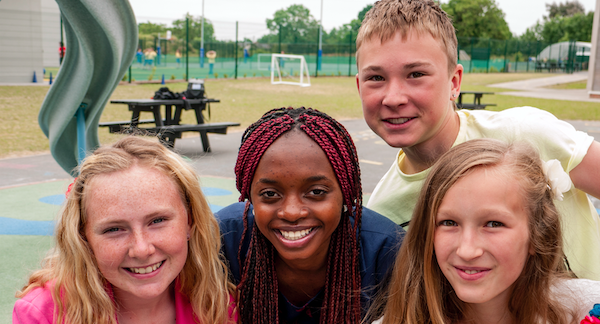 Educate Together has over 45 years experience of providing a unique, inclusive and equality-based school ethos at primary level. In 2011, after many years of advocacy from parents and communities, Educate Together was recognised by the Government as a second-level patron. There are now 21 second-level schools across the country – with more to open in the coming years. The core principles of Educate Together's second-level schools are:
Equality-based
All students have equal access to the school and no one religion or worldview is given priority over another within the school.
Co-educational
All students are encouraged to explore their full range of abilities and are provided with equal opportunities regardless of their gender or identity.
Learner-centred
Our student-centred approach means that we put children at the heart of all policies and practices and involve them in decision-making where appropriate.
Democratically-run
Educate Together schools operate on a democratic basis, encouraging active participation by parents and students in the daily life of the school whilst positively affirming the professional role of the teachers.
Raising student voices
Educate Together second-level schools aspire towards affirming pupil voices. Debate and discussion are nurtured. The management process is open to all members of the school community. As well as having an active Parents Association and Student Council, the school's Board of Management includes two Associate Student Members. All members of the school community are also on first name terms. These approaches empower the individuality of the students while respecting the role of the professionals and avoiding an authoritarian approach.
Teaching and learning
Our second-level schools provide a learning environment that equips students for the complex world of the twenty-first century. We emphasise the importance of developing lifelong learning skills that will enable students to reach their full potential while at the same time preparing them to become caring and active members of a culturally diverse society.
Active, engaging teaching and learning methods are used throughout Junior and Senior Cycle. As well as learning individual subjects, students study some subjects in groups, exploring how they relate to, and overlap with, each other. This enables students to develop research skills, group work skills, time management skills, digital literacy skills, presentation skills and more. Information and Communications Technology (ICT) is widely used as a tool for learning across all subject areas.
Ethical Education
Ethical Education is a holistic, interdisciplinary subject area taught from 1st to 6th year in Educate Together second-level schools. It aims to encourage and provide a space for students to develop awareness of different perspectives, reflect on their own views and biases and to think critically, question and take action on equality and justice issues in their local and global communities.
Sports and extracurricular activities
Students have the opportunity to participate in a variety of sporting activities, both indoor and outdoor, team and individual, depending on the school. Students are also encouraged to join clubs and have opportunities to participate in programmes such as the Young Scientist & Technology Exhibition, Young Social Innovators and the Gaisce Awards.
Evidence of success from ESRI research
In 2020, the Economic and Social Research Institute (ESRI) conducted a comprehensive study of Educate Together second-level schools. This study found that:
Educate Together second-level schools are delivering the model of education envisioned in the organisation's 2009 Blueprint for Second Level Schools, including a focus on positive relationships and the promotion of active citizenship.
Teaching practices are in strong alignment with the progressive approaches at the core of the new junior cycle.
Teachers provide student-centred education while making extensive use of active learning and technology.
The schools are more diverse on average than the typical Irish second-level school, reflective of the increasingly diverse nature of Irish society.

Students expressed strong feelings of inclusivity and belonging within their schools, and very high self-report rate[s] of respecting people from other cultures.