Simon Lewis, Principal of Carlow ETNS, writes about how the predominance of religious-run schools  impacts teachers and families in Ireland. Unfortunately, there are still six counties with no access to an equality-based Educate Together school – Cavan, Monaghan, Leitrim, Longford, Roscommon  and Tipperary. School choice is one of the key issues of Educate Together's election awareness campaign: 'Treating All Children Equally'.  Read more about the campaign  here.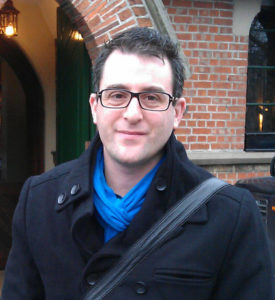 "As a primary school principal from a minority faith background in Ireland, the lack of school choice has a direct impact on my career and family life. For example, I cannot, in all consciousness, uphold the ethos of almost every school in the country. My wife has to travel over 80km every day to teach in a school that respects her beliefs. When we moved to Carlow, we realised that if we were to have a family, there were no schools in the county that would be able to give our child a fully inclusive education. While, we knew, as teachers, that the schools would care for him and treat him well, there would be a constant tug-of-war between the demands of the schools' patron bodies and the rights of our child.  
We campaigned for 3 years to get an Educate Together school in Co. Carlow and we consider ourselves lucky that our son was able to start in Junior Infants this year. However, we shouldn't have to be lucky. It shouldn't be lucky that both my wife and I managed to get jobs in the only schools in their respective counties with equality-based schools. This should be the norm.  
As a principal of an Educate Together school, I try my very best to ensure that families like my own as well as families with different faiths and beliefs are treated with equal respect throughout the day, every day. Unfortunately, this is impossible in Carlow, where my school is oversubscribed every year. Many families have to go to schools that cannot fulfil their rights. In fact, one of our families ended up leaving Carlow in order to move to a town where an Educate Together school was available.   
Outside of my job, I run a website called Opting Out which asks all schools to publicly display how they accommodate children from minority backgrounds. It's been very interesting to note the reluctance from schools to engage for fear of upsetting their patron. However, the statistics that have emerged already demonstrate the real need for change. Denominational schools simply don't have the supports they need to cater for families that need to opt out of faith formation, nor can they be expected to. The answer, of course, is simple. Not everyone is as lucky as we consider ourselves to be. However, as I said, luck should have nothing to do with it."