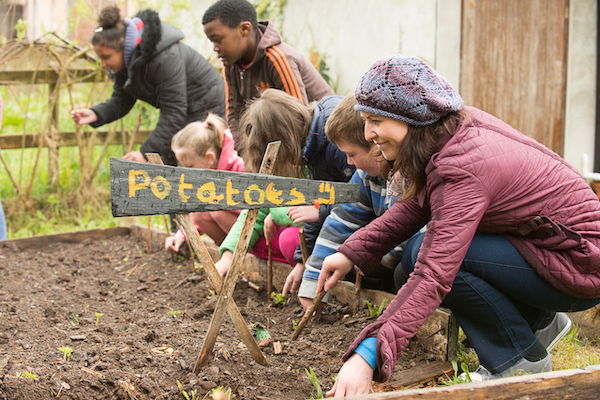 There's nothing more valuable than time!
The birth of the Educate Together movement is a story of a unique contribution made to Irish education on an entirely voluntary basis by parents, teachers and supporters. Whatever way you can help, you'll become part of a community of people working together to support the delivery of innovative, equality-based schooling across Ireland.
Volunteering on a Board of Management
The Educate Together National Office is currently seeking patron nominees for the boards of management for many of our schools across Ireland. This is a fantastic opportunity to get involved with a school community and get involved with the organization. Please note that this is a volunteer position and no renumeration will be offered.
Hours of Work: Overall approximately 6-10 hours per month.
The patron nominee will attend the board of management meeting once a month. These meetings are usually up to two hours long. In primary schools, one of the two patron nominees will be appointed chairperson. 
Occasionally there may be issues that need to be supported by the patron nominee, which may include meetings outside of the monthly board of management meetings. The patron nominee would be expected to read all reports in advance of board of management meetings – distributed 1-2 weeks before. Depending on what role of the patron nominee may take on the board of management, there may be some work between meetings e.g. if appointed chairperson etc.
The recruitment process will be ongoing over the coming months and it may be some time before applicants are contacted. Interviews will take place in October and November.  
Length of commitment: The new term of office will begin in December 2019 and will end in November 2023. 
A more detailed role description is available for download at the bottom of this page. Please find an application form linked here. You can indicate your geographical area of interest by choosing your preferred school.
Existing patron nominees seeking reappointment: 
All boards of management will reach the end of their term at the end of November. Any principal or chairperson can nominate an existing patron nominee for reappointment, but no one may nominate themselves. Please note that a nomination does not guarantee that the patron nominee/chairperson will be reappointed.
 If a chairperson/patron nominee wishes to be reappointed, we would ask that the reappointment request form is completed by 30 September 2019.  
Please find the reappointment request form linked here.
To find out more about any of these opportunities, please contact us on 01 429 2500 or email info@educatetogether.ie
Volunteering in an individual school
If you would like to volunteer in a particular school, please contact the Principal or Chairperson of the Board of Management of that school.
Volunteering in the Educate Together national office
The Educate Together national office is based in Dublin city centre and sometimes has opportunities to volunteer in programmes such as communications or fundraising. Volunteering with us the Educate Together national office offers opportunities for genuine involvement, learning and development in the education sector. We work to ensure that the volunteering experience is meaningful, enjoyable and fulfilling!
Volunteering with an Educate Together campaign group
An Educate Together campaign group is made up of parents / carers who want an Educate Together school for their children. In recent years, the Educate Together network has grown substantially and parental support has been critical to the successful establishment of new schools.
Raising much needed funds for the Educate Together movement
There's no shortage of ways to help Educate Together raise much needed funds. Every cent helps and however you choose to raise funds for the equality-based school movement.