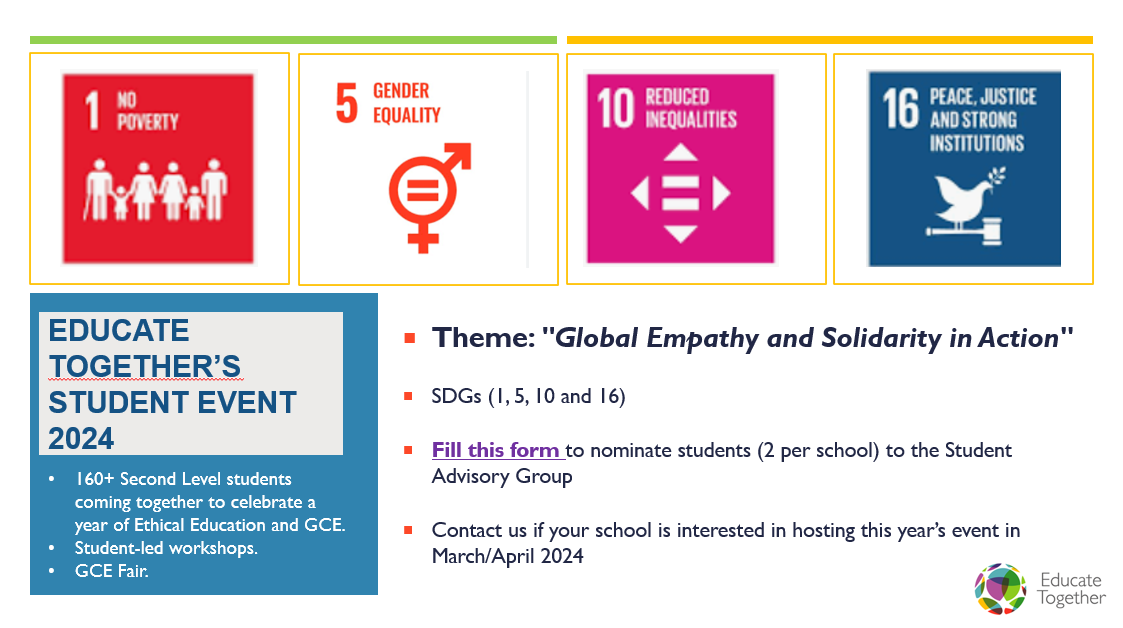 Susana Núñez, Education Officer (second-level). 
Calling all students! Teachers please encourage your students to join the Ethical Education and GCE Student Advisory Group! 
In preparation for the 2024 Educate Together Ethical Education and GCE Student Event, we are looking for senior cycle students who would like to join this year's student advisory group. 
We are asking second level schools from across the network to nominate one or two students from their school. The group will meet monthly from October to April with two additional meetings as we get closer to the spring event. 
What is required? We are looking for Senior Cycle students with a genuine interest in Ethical Education and Global Citizenship Education. 
What can your students contribute? Their enthusiasm and passion for a topic or issue within this year's overarching theme, "Global Empathy and Solidarity in Action," which will focus on exploring SDGs (Sustainable Developments Goals) 1, 5, 10, and 16 (see below). 
What will it entail? The advisory group will collaborate online to plan, lead and organise the event. Different teams will take the lead in various activities, such as communications, workshops, a GCE fair, and more. 
What is in it for your students? They will gain valuable skills, have the opportunity to shape and lead the event for their peers and have fun along the way. See how students 'took over' Educate Together's social media at last year's event and honed their presenting and digital media skills.  
What next? Nominate one or two students from your school by completing this form. 
Some of our previous advisors: 
Oliwia from Stepaside Educate Together Secondary School 
"Last year, I was part of the student advisory group that helped organise the Ethical Education conference called the Green Gathering. Being part of the group was an eye-opening experience for me. I got an insight into how interschool events are organised, what goes into them, and what makes a successful event. The event itself was incredible too. I was able to enjoy the conference with a sense of pride that I was one of the people that helped organise it. The people that were part of the group are some of the kindest, and wisest people I have ever met and I'm glad I met them. Overall, I loved working in the group and the conference was a very fun event to attend."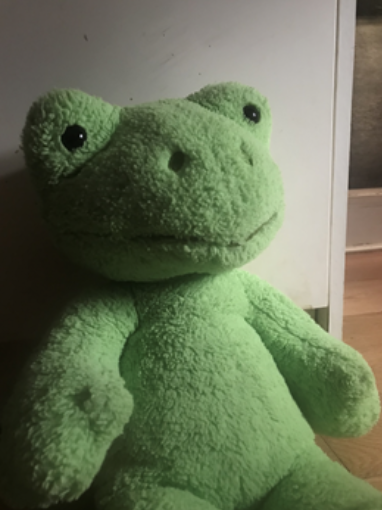 Last year's mascot from Stepaside ETSS "Eclipse" joined us at every online meeting and even made it to the event! 
Here are the Sustainable Development Goals (SDGs) 1, 5, 10, and 16:  
SDG 1: No Poverty – End poverty in all its forms everywhere. This goal aims to eradicate extreme poverty globally, ensuring that all people, regardless of their circumstances, have access to basic necessities and can enjoy a decent standard of living.  
SDG 5: Gender Equality – Achieve gender equality and empower all women and girls. SDG 5 seeks to eliminate gender-based discrimination and violence, promote equal access to education and economic opportunities for women, and ensure women's participation in decision-making processes.  
SDG 10: Reduced Inequalities – Reduce inequality within and among countries. This goal aims to address income inequality, social disparities, and discrimination by promoting policies and actions that ensure equal opportunities for all, regardless of gender, age, race, or socioeconomic status.  
SDG 16: Peace, Justice, and Strong Institutions – Promote peaceful and inclusive societies for sustainable development, provide access to justice for all, and build effective, accountable, and inclusive institutions at all levels. SDG 16 focuses on strengthening the rule of law, reducing violence and conflict, and ensuring accountable governance.  
These SDGs are part of the United Nations' 2030 Agenda for Sustainable Development, which consists of 17 goals in total, each addressing specific global challenges with the aim of creating a more equitable, just, and sustainable world by 2030.  
To find out more about these themes and other Ethical Education strands, visit our resource bank.