Minister for Education Norma Foley TD has committed to engaging with Educate Together and other stakeholders in progressing the Government's plans to broaden the range of school choice available to families in Ireland.    
Addressing delegates at Educate Together's 2022 Annual General Meeting (AGM) in Bremore ETSS on Saturday 7th May, Minister Foley commented on the pressing need to "expand the plurality of our schools to reflect the full breadth of society".  
Educate Together had recently raised concerns around the Government's pilot programme to identify schools which could transfer to multi-denominational patronage. Educate Together's chief concern is that there currently is no clear mechanism for parents and families to have their voices heard on the type of schools that will result from any potential transfers.   
Having heard the concerns put to her by Educate Together recently, Minister Foley committed publicly to "continue to engage with stakeholders – including Educate Together" on broadening the range of school choice available to families.    
Addressing the AGM delegation on Saturday, Educate Together CEO Emer Nowlan called for real progress on school transfers to ensure the State's own target of 400 multi-denominational primary schools by 2030 is achieved. Commenting on the lack of progress in the last decade, Emer said:  
"There are still four whole counties in Ireland today where parents have no choice but to send their children to religious–ethos primary schools.  Families have been waiting for school patronage transfers in towns and cities across the country for many years now and they've waited long enough. It's time for the Government to engage with this issue in an open, transparent and meaningful way, so that all members of school communities are offered the opportunity to have their voices heard."  
Educate Together's Strategic Plan 2022 – 2026 
Educate Together launched its new strategic plan on Saturday.  Stronger Together – Educate Together's Strategic Plan 2022 – 2026 sets out ambitious goals – to support quality and build capacity across the organisation's growing school network, to lead on important system reforms, and to increase access to equality-based education so that this model is available to more children and young people.  
The new strategy was formally adopted by delegates at the AGM and is now available online: www.educatetogether.ie/about/2022-2026-strategic-plan 
Democracy in action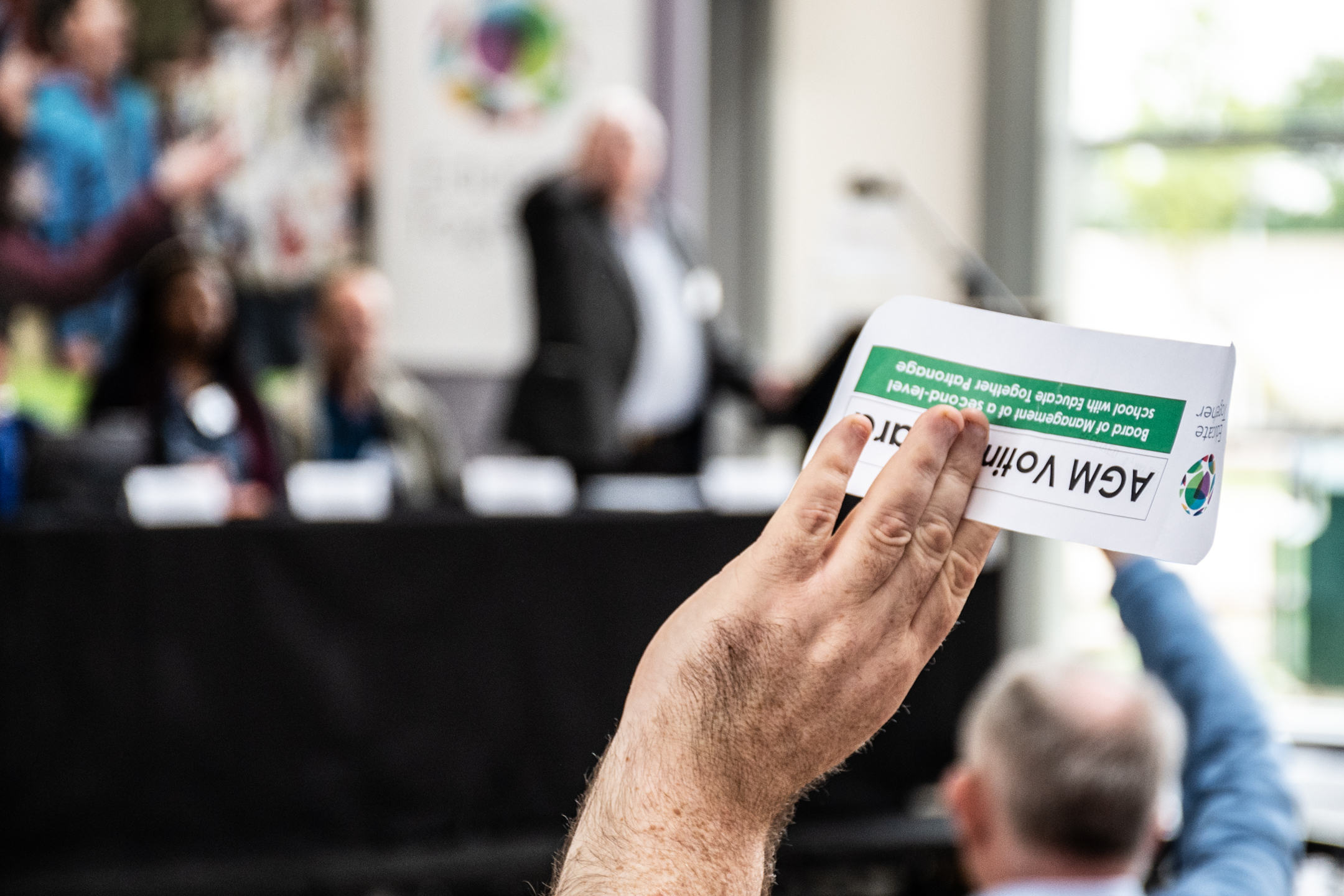 Educate Together is a democratic organisation whose policy direction is set by its membership. Member schools propose and vote on motions and policies that shape the direction of equality-based network for the coming year. This year's AGM, which was attended by representatives of Educate Together's primary and second-level schools, was marked by lively engagement, debate and decision-making.  
A motion passed at the AGM instructed Educate Together to establish a working group to provide additional guidance to schools on actively supporting LGBTQ+ families in line with the organisation's equality-based ethos. Delegates also debated motions related to admissions policies and co-patronage arrangements with Education and Training Boards. 
Theresa Burke, Aidan Clifford and Matt Wallen were all re-appointed to the Board of Directors of Educate Together. The board also welcomed new members Lesley Byrne, principal of Clogher Road Community College, and Miriam Hurley, principal of Dalkey School Project. Danny Haskins and Colm O'Connor, whose terms were finishing, were thanked for their contribution on the board 
Thanking Deirdre O'Donoghue and Paul Rowe  
A special event was held at the AGM to honour and mark the retirement of two of Educate Together's best known faces, Deirdre O'Donoghue and Paul Rowe.  
Educate Together's first Chief Executive, Paul Rowe, stepped down from his role in 2020. Paul has been involved with the Educate Together movement for 30 years, as a parent, activist, board member and national representative. He was CEO for 17 years and played a transformative role in the development of the equality-based school movement. 
After more than 27 years of dedicated service as a staff member, Deirdre O'Donoghue will retire from Educate Together this month. Deirdre was Educate Together's first employee, taking up the role of national coordinator in 1994, and she has played a key role in the development of the national office, and in all the organisation's achievements as a movement for change. 
The AGM featured music, speeches and presentations to show the Educate Together movement's deep appreciation for Paul and Deirdre's incredible work over many years.