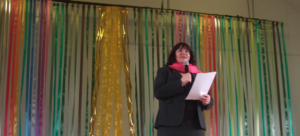 After more than 27 years of dedicated service as a staff member in Educate Together, Deirdre O'Donoghue will retire from her role this month.
Deirdre was Educate Together's first employee, taking up the role of national coordinator in 1994, and she has played a key role in the development of the national office, and in all of the organisation's achievements as a movement for change. Her capacity to develop relationships and to work in constructive partnership with others has been central to developing Educate Together's reputation as a professional management body and school patron.
As the first Educate Together employee, Deirdre has set the tone and culture of the national office and the wider organisation – a culture that is positive, supportive, respectful, and kind. That culture has been a core strength of the Educate Together network over many years, nurturing a collaborative climate in which school communities share good practice and support each other. Deirdre's capacity to maintain a calm and positive attitude under pressure has ensured that schools and the national office have been able to navigate many bumps along the road as the organisation has grown and flourished.
Over the years, Deirdre:
was a founder member of South City School Project (Rathfarnham ETNS) and supported many other school campaigns as a volunteer
supported the National Executive of Educate Together in its formative stage
has been the beating heart of Educate Together's school support service for principals and boards of management, which she set up in the organisation's early years
was a member of the inaugural Irish Teaching Council, representing all primary management
established the Educate Together Principal's Conference as a successful annual event.
Deirdre is moving on to the next stage of her career as a group therapist from 18th May 2022.
_____________________
Deirdre O'Donoghue was a founder member of Educate Together. I first met her in the early 1980s when she was pregnant with her son!  She was a tireless advocate for a co-ordinating body for what were then four separate "project" schools – Dalkey, Bray North Dublin and South City. Thanks to her persistence and enthusiasm, Educate Together was set up in 1984. Her commitment and loyalty has been unfailing for almost forty years – she stayed with Educate Together through thick and thin. She will be sorely missed by all of us and we wish her every success in the next phase of her career.
Áine Hyland – Emeritus Professor of Education and former Vice-President of University College Cork and one of the founding parents of the Dalkey School Project
Deirdre will be sorely missed, not just in Educate Together but across the education system. Her extensive knowledge and understanding of the primary sector coupled with her skills in relationship-building and her natural warmth have enabled her to make a unique contribution – developing a strong and supportive network of schools and establishing Educate Together as a positive and professional partner. We are conscious of her legacy and determined to preserve and develop the positive culture she has built, as we wish her well for the next stage of her career as a group therapist. Ní bhéidh a leithéad ann arís!
Emer Nowlan, CEO of Educate Together
Deirdre has been a mainstay of Educate Together's national office ever since it was set up in John Player House, South Circular Road, Dublin in 1994. Throughout her career, she has carried out many roles but the most important has been the development of the support service for Educate Together school leaders.
This involved countless hours of confidential support, training seminars and detailed research. The quality of her advice and support of school principals going through the complicated process of starting up a brand-new school often in challenging accommodation is legendary in the movement. Deirdre has also been deeply involved in Educate Together's negotiations with the Department and other partners and has represented primary management on the Teaching Council. Throughout her long career, she has held and nurtured the positive and collaborative culture in the national office and has been a superb colleague, always kind and warm hearted. I would like to wish Deirdre the very best on her retirement from Educate Together and her new career as a group therapist.
Paul Rowe, former CEO of Educate Together
Deirdre was a fountain of knowledge for principals. No question was too small or silly to ask. Knowing Deirdre was at the end of the phone was like having a comfort blanket as you sat in the school office trying to untangle the latest knotty issue. If you couldn't find the solution yourself, you could depend on Deirdre to help you to think through an issue. Though Deirdre is physically leaving, her legacy remains. Her knowledge of educational matters meant she knew where to locate relevant information. Her understanding of human dynamics assisted in unravelling contentious situations.  Deirdre's organisational skills have ensured that there is a bank of resources that can be accessed by principals in the years ahead. Deirdre was steadfastly loyal to Educate Together. She contributed to the Educate Together vision through her faith in finding solutions and her empathy for every member of the Educate Together family.
Miriam Hurley, principal of Dalkey School Project NS
Deirdre O Donoghue has been a tremendous support to Educate Together School principals and boards of management. Deirdre has always shown the utmost respect when advising and supporting schools and school principals. Deirdre's deep understanding of how the education sector operates and how whole school communities work together, has been invaluable when advising schools and school leaders. Never judgemental, always ensuring there is the time for a laugh amid the muddles, and at all times makes you feel treasured and valued after spending time in her company.
Remembering all of those times when we were up to our necks in it, and trying to paddle our way out – Gentle and Ladiesmen, we knew just what to do – ring Deirdre O'Donoghue!
Dermot Stanley, principal of Canal Way Educate Together NS