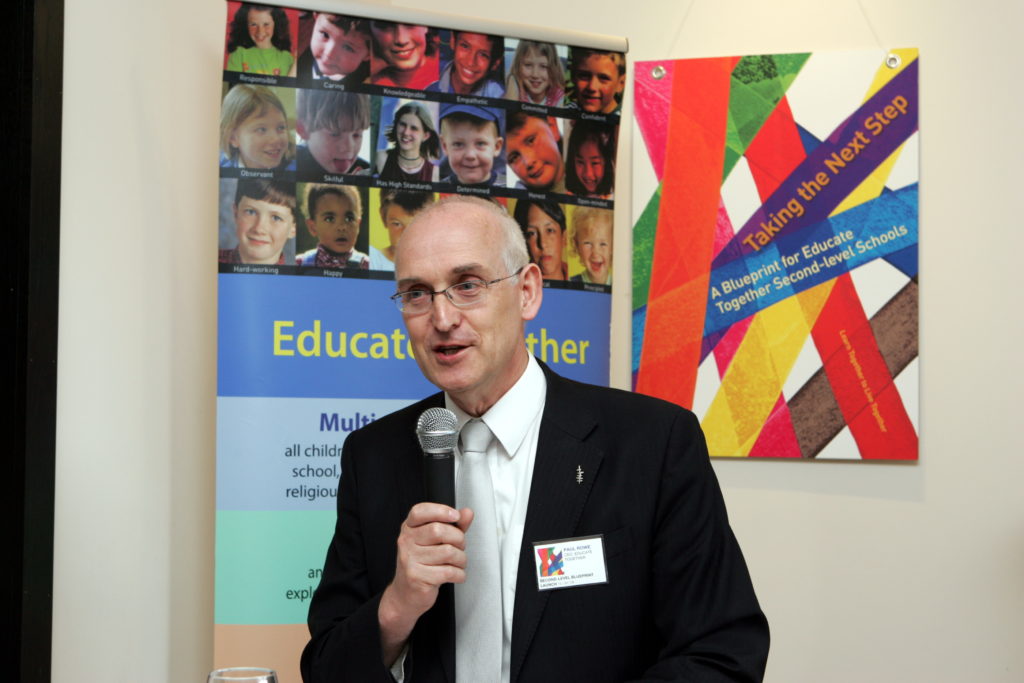 Educate Together is today announcing that Paul Rowe is to step down as Chief Executive Officer of the organisation in early 2020. Paul will continue to support the Educate Together National Office in an advisory capacity in the coming years.
Paul has been involved with the Educate Together movement for 30 years, as a parent, activist, board member and national representative. He has been CEO for 17 years. 
Paul started his work for Educate Together as a volunteer in 1988 when his eldest son started in the North Dublin National School Project NS. He was elected Secretary of Educate Together in 1996 and became Chairperson of its first Board of Directors upon its establishment as a limited company in 1998. Paul oversaw the establishment of the full time National Office in 2002 at which time he was appointed the organisation's first Chief Executive. 
As CEO he has played a transformative role in the development of the equality-based school movement, turning Educate Together into a major and mainstream innovative presence in Irish education. During his tenure as CEO of Educate Together, Paul: 
transformed the equality-based school network from having only 14 schools to where it is now the leading provider of new schools in Ireland with 84 primary and 13 second-level schools, more than 28,000 pupils and 1,200 teachers. There will be over 100 Educate Together schools open from this September 2019.

 

ensured the successful opening of the first Educate Together second-level schools. There are now 13 second-level schools across the country – with more to open in the coming years.
consistently highlighted and challenged the infringement of human rights and lack of parental choice in the Irish education system.

 

led on the development and rollout of Educate Together's unique Ethical Education curriculum, which now operates in all equality-based schools in Ireland.

 

ensured that Ethical Education was represented in colleges of education at a time when student teachers had no choice in Ireland but to attend religious-run colleges.
set up and was the first CEO of the Educate Together Academy Trust in the UK, where there are now four primary schools in the south west of England.
"After many years involvement in the Educate Together movement I have decided that it is time for me to make plans to step back from my day-to-day role as Chief Executive Officer. I believe that it is a critical time for the equality-based school movement and now is the time to recruit a successor who shares our vision for the future of education in Ireland and who can build on the work we have done together over very many years in the national office.
It has been a privilege to lead the Educate Together movement as CEO over the last two decades, a time which has seen profound cultural and social changes in Ireland and tremendous progress in the reform of our education system. Above all it has been an absolute pleasure and honour to work with such dedicated National Office staff, Principals, teachers, volunteers and board members.
I have also thoroughly enjoyed our work with many partners in the education system and the friendly, constructive relations we have developed. I am proud of what we have achieved together and I look forward to Educate Together continuing to perform its pioneering role in Irish and world education."
The Educate Together Board of Directors will announce an open recruitment process for the CEO role in the coming months.
_____________________
"Paul Rowe has been CEO of Educate Together for over twenty years. When he was appointed in the mid 1990s, there were just ten primary schools under the Educate Together banner. Today, thanks to Paul's commitment and leadership, there are 84 primary and 13 second-level schools in the Educate Together sector. Paul is a legend in his own lifetime. As a tireless advocate for the values and philosophy of Educate Together, he has engaged successfully with educational policy-makers nationally and internationally. He has achieved what seemed impossible twenty five years ago – a ten-fold increase in the number of Educate Together primary schools and an exponential growth in the number of second-level schools. He will be sorely missed by members of boards of management, by parents, teachers, ancillary staff and pupils in Educate Together schools, not to mention his colleagues in the Educate Together office. Ní bheidh a leithéid ann arís."
Áine Hyland – Emeritus Professor of Education and former Vice-President of University College Cork and one of the founding parents of the Dalkey School Project
"On behalf of the Board of Directors I would like to thank Paul for his dedicated long service to the Educate Together movement. His involvement has been crucial to our development over 20 plus years; and this will continue as he remains our CEO. The Board of Directors are delighted Paul has agreed to continue as CEO to allow us to properly plan for succession. We are also hugely appreciative that he will work with us to ensure a smooth transition period and the continued success of the equality-based school movement into the future."
Jen Cummins – Chairperson of the Educate Together Board of Directors
"Paul's vision for equality and inclusivity in education has made a real impact on the school landscape in Ireland.  The Educate Together ethos resonates strongly with many parents who want their children to have access to the best education possible in a non-religious environment. Paul's belief in his vision has been a key strength in the Educate Together model and his contribution to the success of the network is unquantifiable.  He has driven this movement for 30 years and under his stewardship has seen the number of schools adopting the Educate Together ethos grow exponentially. I want to thank Paul for the endless energy, enthusiasm and passion that he brought to the education sector.  His legacy will live on in the thousands of students which have and will pass through Education Together schools."
Micheál Martin TD – Leader of Fianna Fáil and Minister for Education from 1999 to 2000
"When I first met Paul, it struck me that he was often a lonely voice in Irish education, raising issues that many considered uncomfortable, like the need for equality, human rights and parental choice in the school system. As Chief Executive, he had a tenacity about him which was certainly needed to push through the progress and reforms which Educate Together has been at the forefront on. In particular I commend Paul's tenacity, drive and vision in gaining recognition for Educate Together as a second-level patron in 2011 and in establishing Ireland's first equality-based second-level schools."
Ruairí Quinn – Minister for Education and Skills from 2011 to 2014
Paul's tenure in the leadership of Educate Together – both as chair and then as Chief Executive, has seen the transformation of both the organisation and the governance of Irish education. His vision and work has been central to both. Above all, it has been his resilience in the face of outright opposition and strategically slow change processes, that has defined his leadership. He never let go. He never let go of the vision that drives Educate Together as an organisation; of his personal commitment to ethical and multidenominational education in Ireland; nor of a rights-based determination that educational choice should be available to all. Resilience, persistence, or downright dogged determination – whatever it's called, it has worked!
I am particularly pleased that DCU Institute of Education will shortly launch Irelands first Centre for Multi-Denominational and Ethical Education, in partnership with Educate Together. Focused on research for and about these forms of education, the centre will provide a national and international focus for scholars and policy-makers alike. Demonstrating a personal commitment to lifelong learning, Paul has just started his doctoral studies with us at DCU. There is more to come, and all of us at DCU wish him well in the next adventure. 
Anne Looney – Executive Dean, DCU Institute of Education 
"For many years I have had the pleasure of working with Paul Rowe and Educate Together on a wide range of projects close to my personal and professional education philosophy. I have seen at first hand how Educate Together with Paul Rowe as CEO has played such a major role in providing a more pluralist and equitable system of education in Ireland. The more recent move of Educate Together into the area of 2nd Level education was facilitated by Paul Rowe in his role as CEO. He was committed to bringing the philosophy, the vision and values of Educate Together to this hugely important sector of Irish education. His conviction, his belief that all things are possible and his respect for all stakeholders within the sector helped to forge alliances and provide the means of making the vision a reality. The rapid growth of this sector in such a short period of time is a testament to Educate Together and to Paul Rowe.
Carmel Mulcahy – Former Head of School of Education Studies DCU, First Chair of Hansfield ETSS
"Paul Rowe has long been an intense advocate for parental choice and for multi-denominational education. He has worked tirelessly to promote these ideas, often in the face of opposition from vested interests who were more comfortable with the status quo. There is now greater acceptance that a diversity of school types is essential to meet the needs of a rapidly changing society. The number of multi-denominational primary and second level schools has grown but not as fast as the demand. It will take some time to realise Paul's ideal of providing real choice for parents in all parts of the country."
John Walshe – Education journalist, author and former Government adviser