This July, Educate Together is offering a

professional development course for teachers

challenging homophobia; an initiative which is long overdue in Ireland.
This course was developed in 2011 by Educate Together in partnership with BelongTo, and with the support of the INTO. It is approved by the Department of Education and Skills, as one of their Teacher Education Summer courses. This course is open to any teacher from any sector of primary and secondary education who is interested in addressing homophobia.
The course is running from Monday July 2nd – Friday 6th July.
Paul Rowe, CEO of Educate Together said: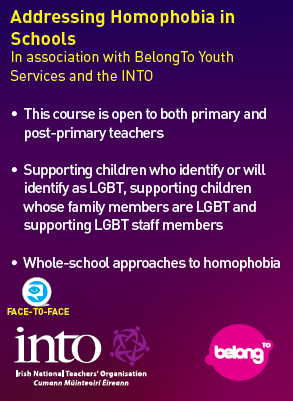 "Educate Together is delighted to be offering a course challenging homophobia, which can manifest itself in primary schools and have long-term repercussions for children and families alike.'
Michael Barron, CEO of BeLonG To Youth Services, said:
'It's very important that homophobic bullying is tackled in primary schools because this is where it starts. Homophobic bullying is the most common form of harassment experienced by young people, including in primary schools. It can have really devastating effects.'
Sheila Nunan, general secretary of the INTO, remarked:
"The INTO is extremely proud to be involved in the development and delivery of this course. Addressing homophobia at the primary level is long overdue'.
The course is open to all primary teachers and principals. It will give them the knowledge and capacity to address homophobia, for example by:
Developing whole school approaches to homophobia;
Enhancing pastoral care of all pupils who experience homophobic bullying;
Promoting equality for pupils who may identify as Lesbian, Gay, Bisexual and Transgender (LGBT);
Promoting equality for pupils who have LGBT parents or family members;
Enhancing understanding of relevant equality legislation.