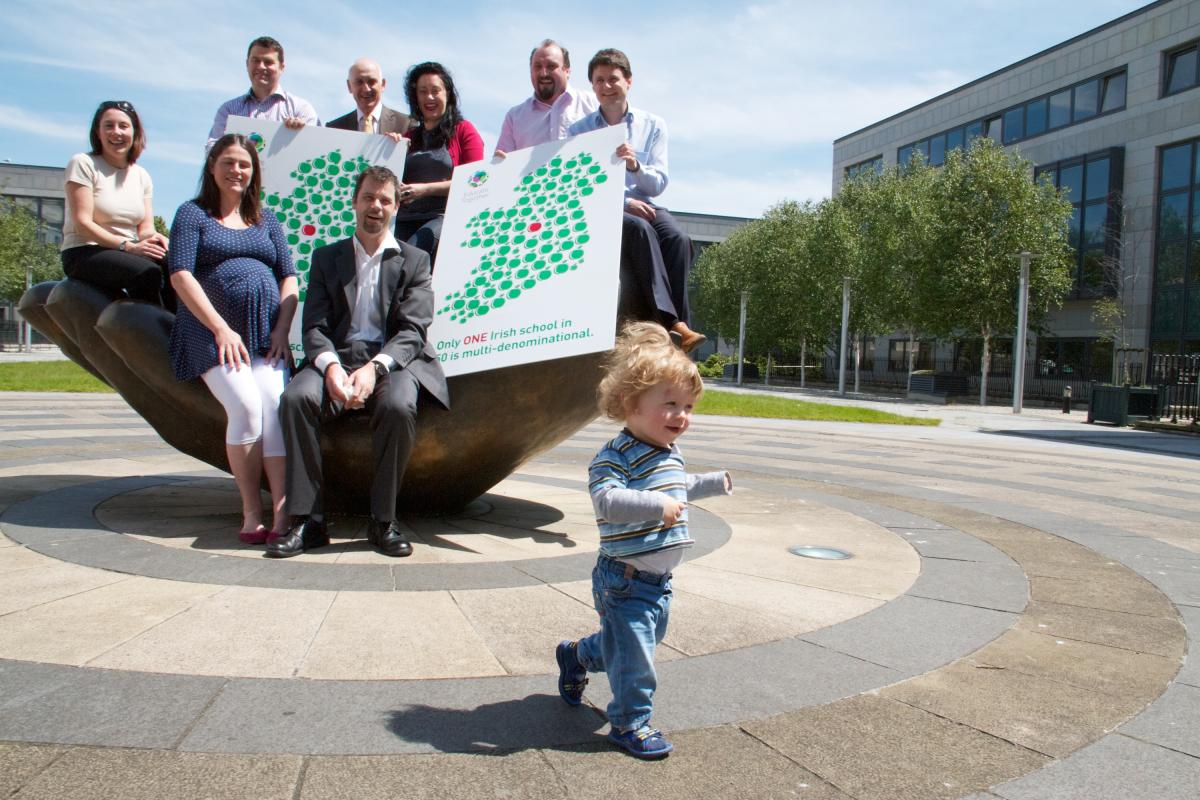 Educate Together has welcomed Minister's commitment on patronage divesting, as have parents campaigning for Educate Together schools nationwide.
Following consideration of the report from the Forum on Pluralism and Patronage in the Primary Sector, Minister Quinn has announced a plan which will see some of the Forum's key recommendations implemented. This should begin a process of divestment of a number of primary schools under the patronage of Catholic bishops to other patrons, including Educate Together.
Commenting on the Minister's announcement, Educate Together CEO Paul Rowe described today's announcement as 'a landmark event in Irish Education', but urged the Minister to implement these actions without delay. Paul said:
I welcome the Minister's announcement and I congratulate him for addressing this historical issue in Irish education. This paves the way for the possible transfer of patronage of a small number of Catholic schools to another patron, such as Educate Together, where there is imbalance in the system and a parental demand to do so. This is a landmark event in Irish Education. I ask the Minister to implement these recommendations without delay, as there are parents in many locations across the country waiting for an Educate Together school to open near them.
In today's announcement, the Minister outlined a process by which primary schools under denominational patronage, typically a Catholic Bishop, can be divested to another patron, such as Educate Together, to provide greater diversity of schools. The process includes a parental survey to ascertain the views of parents in the areas where these changes are to be considered. It will be piloted in 44 areas across the country, driven by the Department of Education and Skills.
This decision will address many of the issues raised in report from the Forum on Patronage and Pluralism, published in April. That report showed that despite the changes that have taken place in Irish society, 96% of primary schools still have a religious patron. Minister Quinn established the Forum following comments from leading figures in the Catholic church acknowledging that the proportion of Catholic schools is no longer reflective of Irish society.
Educate Together also welcomed the Minister's call for surveys to be conducted objectively, calmly and professionally, and his plan for a code of conduct for patron bodies. Paul Rowe again:
This process should be about parents, not patron bodies. Obviously parents campaigning for Educate Together schools will hope that this process results in an Educate Together school place for their child, but this is about choice for all parents, whatever school type they want to choose. Educate Together is committed to working closely and constructively with other patron bodies to find solutions which will suit the needs of local communities.
Educate Together has also welcomed the news that the NCCA will be asked to develop an Education and Religion Beliefs programme for primary schools, and has offered its experience and that of its schools to the Council for that process. Emer Nowlan, Head of Education and Network Development:
Educate Together's Learn Together Ethical Curriculum has been developed by teachers and school communities over the past 35 years, and has proved extremely popular with parents and pupils from different belief backgrounds. It includes a strand specifically dealing with Belief Systems, and we would be delighted to share the learning we have acquired in developing and implementing this curriculum with the NCCA.