Our Certificate in Ethical and Multi-denominational Education, launched by the Minister for Education, represents a significant breakthrough in Teacher Education in Ireland.

This is the first time a College of Education has offered a course specifically addressing the professional development needs of teachers working, or wanting to work, in the growing multi-denominational sector.
This new post-graduate Certificate course in Ethical and Multi-denominational Education has been developed by St Patrick's College in partnership with Educate Together. It is a ground-breaking initiative, addressing an underdeveloped but increasingly important discipline in the Irish educational landscape, and is the first course of its kind in the state.
Speaking about this development, Dr Pauric Travers, President of St Patrick's College said:
St Patrick's College is delighted to be the first College of Education to provide a recognised postgraduate course specifically devoted to Ethical and Multi-denominational Education. Questions of ethics and values have never been more relevant to Irish society, and especially to those in education.
Paul Rowe, CEO of Educate Together said:
We are excited to be working in partnership with St Patrick's College to develop this innovative Certificate. St Patrick's was one of the first Colleges of Education to engage with Educate Together and our Education team has developed a professional working relationship with academic staff in the College who have specific interests and expertise in Ethical Education.
Now, for the first time, teachers will have the opportunity to reflect on the nature of ethical and multi-denominational education and to share and develop examples of good practice, while working towards a recognised qualification. We expect this new course to make an important contribution to the development of capacity in the education system; capacity which will be invaluable in dealing with the issues highlighted by the Forum on Patronage and Pluralism.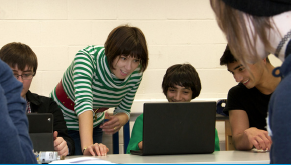 Educate Together is the fastest-growing patron body in Irish education. It has opened 20 new primary schools in the last 10 years, with a further 5 due to open this September, taking the number of Educate Together school to 65. As these schools grow, so too do employment opportunities for teachers in the sector. There are currently over 180 vacancies in existing Educate Together schools, even without taking into account new schools which will open in the coming years.
• The Certificate course involves four taught modules each comprising 5 postgraduate credits (ECTS), giving a total of 20 ECTS at Level 9 on the National Framework of Qualifications.
• Credit may be taken towards a master's degree, subject to certain terms and conditions.
• The course is open to all teachers who hold a recognised qualification from an awarding institution in Ireland or elsewhere. Those working in all school types: denominational, multi-denominational, inter-denominational or non-denominational schools, or those who have an interest or an appropriate reason for attending may also apply.
• The course will take place in St. Patrick's College, Drumcondra, in a blended format combining face-to-face lectures with online tuition (synchronous lectures as well as asynchronous interaction).
• St Patrick's College, Drumcondra, is a College of Dublin City University.
Apply for a place on the course here