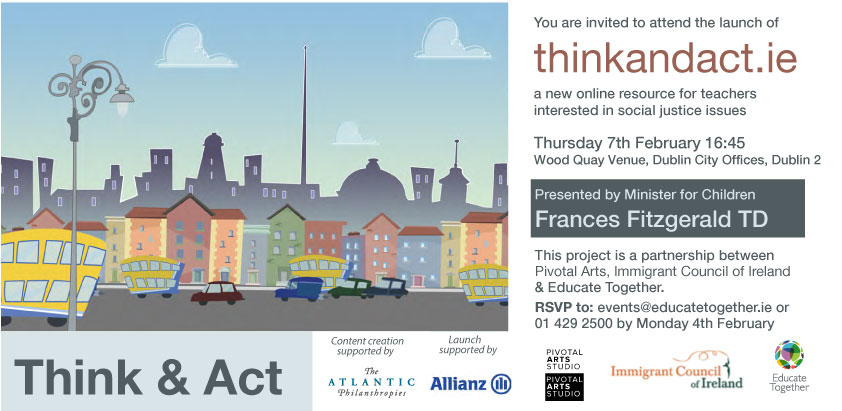 The contemporary story of an immigrant child's journey to Ireland has been developed as a new online teaching resource for primary children. Thinkandact.ie will be launched by Frances Fitzgerald, Minister for Children and Youth Affairs in Dublin Civic Offices at 5pm on Thursday February 7th.
The website's tells Abbi's story, re-creating her experiences in a new country through animation and multi media resourses. Pivotal Arts Studio (formerly FOMACS) developed the web and multi-media content and the curriculum and teaching resources were developed by Educate Together.
Director of Pivotal Arts, Áine O'Brien, describes Think and Act as "a pioneering collaborative project that listens carefully to the voices and rich perspectives of children. The animations capture the real life experiences of what it means to live in a globalised world and to negotiate and respect difference in the local classroom. Think and Act draws its storytelling and principles of social justice from the 'thinking, acting and ethical wisdom' expressed by a new, diverse younger generation".
Primary Education Officer for Educate Together Fionnuala Ward stated: "Think and Act tackles a range of issues in age and classroom appropriate scenarios and stories. The animation and learning resources really engage children – getting them to think and talk about the world around us, and hopefully in the future, to act as enlightened and compassionate citizens."
The website has been built around a set of animated films which were developed with support from Atlantic Philanthropies and the Irish Film Board. The teaching resources, web content and technical development were supported by Atlantic Philanthropies, State Street and Allianz with engagement from the Immigrant Council of Ireland.
The immigrant experience is central to any discussion of contemporary Irish society. Starting that debate and fostering understanding at primary school level are key objectives of Think and Act. Director of the Immigrant Council of Ireland Denise Charlton comments: 'Young people are a catalyst for change and it is important that we reach out to them. The Immigrant Council of Ireland is committed to working with children and teenagers. Our involvement in Think and Act is an opportunity to start that work at an earlier stage in a child's life and assist them in forming their values, opinions and their development.
The next step for the developers is to get teachers actively using Think and Act in the classroom. Fionuala Ward again: "Think & Act lesson plans have been developed by teachers for teachers. Lesson ideas, starting with the issue of migration and family reunification, are provided in a range of curriculum areas. With the emphasis on active learning and critical thinking, Think and Act really brings social justice issues to life in the classroom. We encourage all teachers to check it out, use it in their classroom and help develop it further".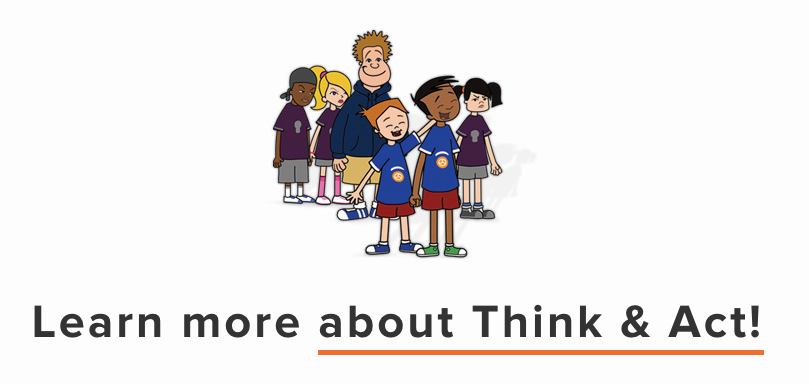 Thinkandact .ie is now live and all resources are provided on an open access basis. The structure of the site allows for teachers to contribute new material to the lesson plans and multi-media content.
For further information contact
John Holohan
Head of Communications
Educate Together
Tel 087 2035750