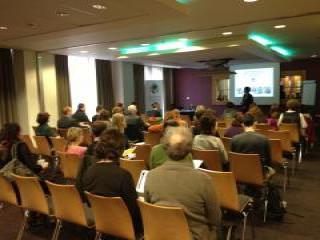 Our Second-level National Forum on Saturday 26 January was attended by working group members, representatives from parent start-up groups, second-level Advisory Panel members and others interested in our second-level project.
Dr Carmel Mulcahy, lecturer at DCU's School of Education Studies, gave a fascinating presentation on Values, in which she shared the results of recent research into Values across the Educate Together network.
Claire Conneely, Director of Bridge21, shared the results of their pilot study into 8 post-primary schools, and the challenges of bringing 21st century learning into Irish classrooms. The results of the study showed that students prefer working co-operatively in teams, on practical, technology-mediated projects.
Members of our Curriculum, Teaching & Learning working group, Louise Bailey, Louise Noone and Jennifer Poole, discussed modules they have been developing for Junior Cycle Short Courses, including Forensics: CSI Boot Camp, Community Action, and Entrepreneurship. These short courses are cross-curricular, and are linked to the key skills and statements of learning of the new Junior Cycle Framework.
A big thank you to all our guest speakers, whose thought-provoking presentations stimulated much discussion and debate, and thanks also to all our enthusiastic, engaged participants whose contributions helped make the event such a success.