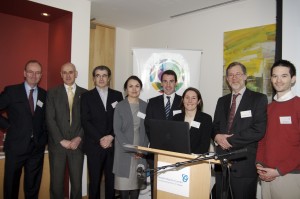 Educate Together, the patron body for Ireland's multi-denominational schools, in association with Mason Hayes & Curran, held a very successful Breakfast Briefing on 9th March. Following on from the launch of its Blueprint for Second-level Schools in 2009, Educate Together is seeking to bring thinkers and opinion formers from industry and education together to discuss the key innovations that are needed in Irish education.
In partnership with the NCCA and the University of Limerick, Educate Together is organising a national conference in May 2011 entitled 'Re-imagining Learning'. Speakers at the Breakfast Briefing, chaired by former DCU President Prof Ferdinand von Prondzynski, invited the technology sector to engage with the debate about what reform of second-level education in Ireland should look like.
A presentation of Educate Together's second-level model by Head of Education and Network Development, Emer Nowlan, set the stage. It was followed by a panel discussion on a vision for an improved Second-level education system. The panel comprised ofPaul Sweetman, Director of ICT Ireland; Fintan Murphy, Technology Consultant at Damson Consulting; Fiona O'Carroll, Executive Vice-President of Houghton Mifflin Harcourt; Gareth Morgan Director of Global Ad Operations at Google and Conor Galvin Lecturer and ResearcheratUCD School of Education & Lifelong Learning.
Educate Together's Head of Education and Network Development, Emer Nowlan said, 'Educate Together welcomes the NCCA's review of the junior cycle at second-level. Our second-level project aims to bring a wide range of change-makers into partnership so that our brand new schools develop 21st century critical thinkers, problem solvers, effective communicators, creators and innovators. In the run up to our May conference, Re-imagining Learning, we want to hear from innovators in education, industry and beyond as to how they envisage the education system of a modern Ireland.'