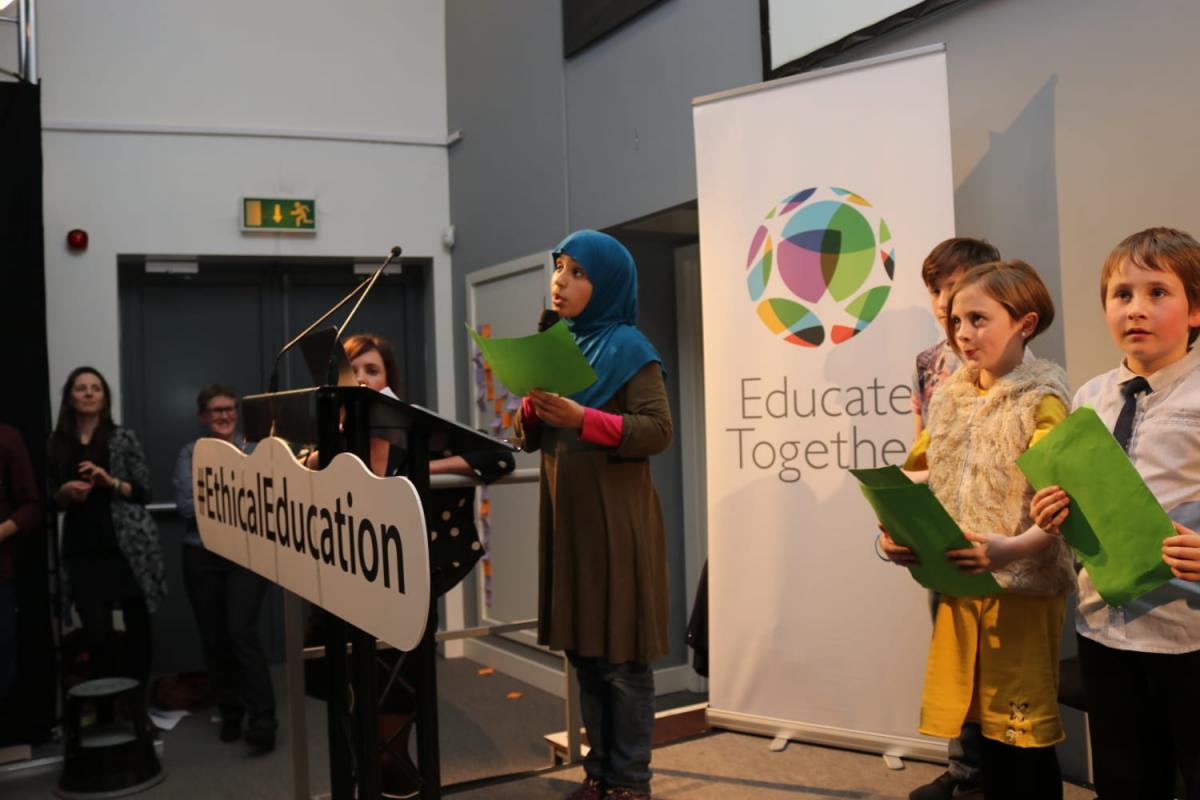 Educate Together's Ethical Education Conference – Educating for a Sustainable Environment – took place this weekend, attended by over 200 teachers, students, educators and exhibitors from all over Ireland.
This year's theme addressed a core part of the Educate Together ethos: ethics and the environment. With one of the biggest global challenges being the unsustainable levels of development, this conference focused on supporting educators to address issues related to sustainability through Ethical Education. Ultimately, the Conference provided educators with a wide range of ideas and practical solutions to bring back to their schools.
Students took centre stage
The conference opened on a strong note –  On Friday, the main stage in the Science Gallery Dublin was given over to students as they presented to a packed auditorium on initiatives they have led on in their schools on environmental issues. This StudentMeet – an event pioneered by Educate Together at previous conferences – is fantastic way to ensure that students are empowered to speak about issues that influence them and initiatives that they are involved in. Facilitated by the children of Dalkey School Project, students presented on restoring bee populations, the urgency of climate change and a project incorporating global sustainable development goals on sanitation.
Panel on Educating for a Sustainable Environment
Friday night also saw a panel discussion facilitated by physicist and Assistant Professor in Science Education at UCD, Dr Shane Bergin. Duncan Stewart (RTÉ's Eco Eye), Óisín Coghlan (Friends of the Earth) and Elaine Nevin (ECO-UNESCO) discussed how important it is that young people today understand the challenges we face as we 'head towards the precipice' of climate change and the vital role that education has to play in promoting sustainability and safeguarding the environment.
Keynote Address
The conference Keynote Address was delivered by Dr Charlotte Holland, Director of the Regional Centre of Expertise in Education for Sustainable Development with DCU Institute of Education. Charlotte encouraged educators to approach education for a sustainable environment with an open mind, and in facing the uncomfortable truth of climate change linked to unsustainable development, teachers often need to be able to face uncomfortable truths about modern life.
Empowering teachers and school leaders
As a direct result of human activity, the present cohort of students will be living in a very different world from generations before them. With that reality in mind, the conference was about providing the space for teachers to tease out how they approach issues in a constructive way to best effect for all of their students. Conference workshop topics included: the politics, ethics and science behind our relationship with the living planet, age-appropriate action and activism and ethical consumerism, integrating local-to-global perspectives into teaching practices, supporting greater understanding of the solutions to climate change and exploring new ways to meet our energy needs.
The annual Educate Together conference is open to all teachers, whether or not they teach in Educate Together schools, and is going from strength to strength. Educate Together believes that it is vital that educators have the space, time and opportunity to discuss, engage and reflect on issues that impinge on both their lives and the lives of their students.
Conference photogrpahs can be accessed here
Follow #EthicalEducation on Twitter for updates from the conference
Download the conference brochure here