Changing Our Ways, Changing Our World: Ethical Education Conference 2018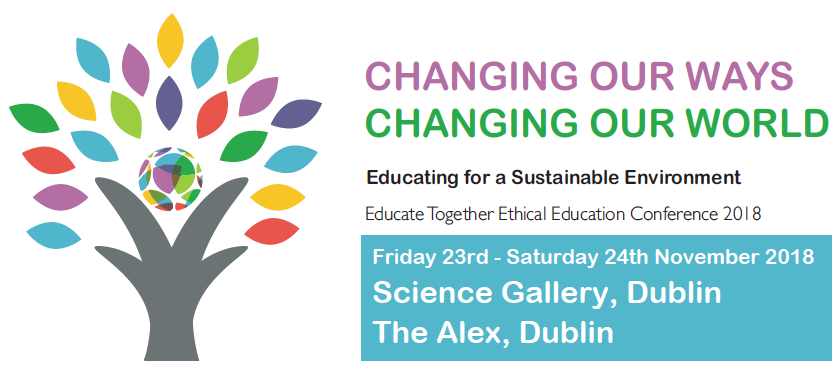 Now in its fourth year, Educate Together's annual Ethical Education Conference is an established event in the education calendar and one not to be missed!
2 great venues for the price of 1!
We are delighted to announce that for the first time this year, delegates will have the pleasure of visiting Science Gallery Dublin as part of the conference programme as this outstanding venue hosts Day 1 of the conference on Friday 23rd November 2018. Delegates will then be treated to the luxurious surrounds of the nearby and newly refurbished Alex Hotel for Day 2 of the conference on Saturday 24th November 2018.
Why focus on Education for Sustainability?
Ethical Education invites students and teachers to engage with issues and challenges facing society in order to nurture globally aware and active citizens who are
prepared to take action. One of the biggest challenges facing the world currently
are the unsustainable levels of development that are degrading and destroying the environment. As global citizens we are collectively placing unsustainable demands on our planet's capacity. Consequences include resource depletion and waste disposal, climate change, extinction of species and challenges to the integrity of ecosystems.
This Conference will focus on supporting educators to address these issues in their classrooms and schools through the Ethical Education Curriculum and related subjects. Ultimately, the Conference will provide educators with a wide range of ideas and practical solutions to bring back to their schools.
Exhibitors 
As always, the conference will provide an opportunity for delegates to meet and speak to a number of exhibitors that offer different educational services and resources relevant to primary and second-level schools. Delegates will have the opportunity to interact and meet with these throughout the day on Saturday. There will also be a special exhibition competition where delegates will have the opportunity to win a prize! 
If you would like to register as an exhibitor at the Conference please contact James from Educate Together National Office on 01 429 2500 or email events@educatetogether.ie
Information on previous Ethical Education Conferences