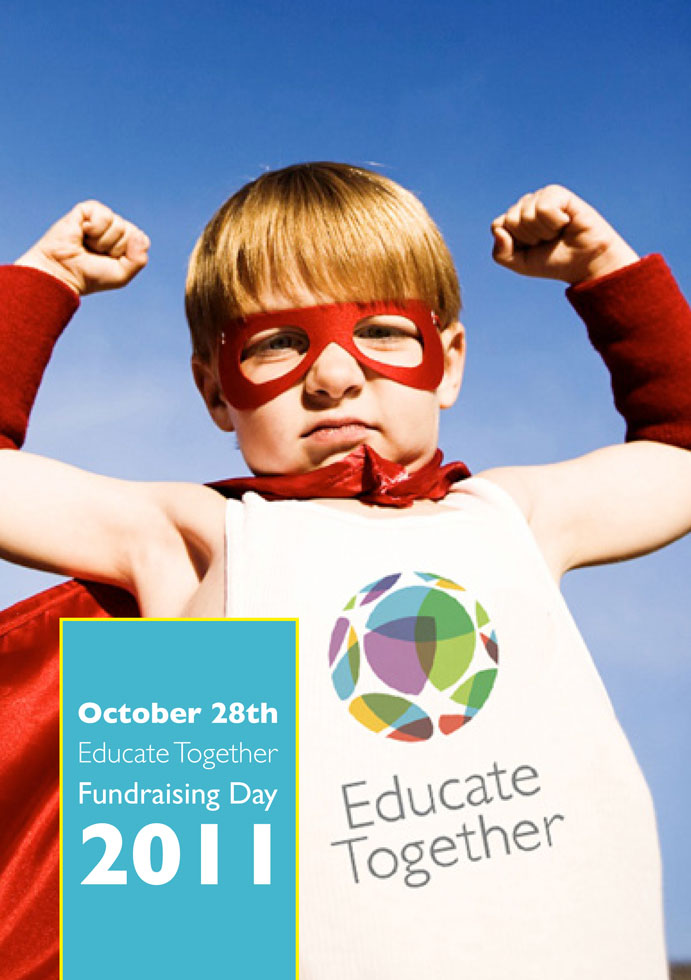 Parents, pupils and staff in Educate Together schools around the country are coming up with creative ideas to support Educate Together's National Fundraising Day on October 28th.
Bracken ETNS, which was established in 2008, is having a game playing day for its pupils. Principal Marian Griffin is looking forward to the event 'Everyone in the school is looking forward to celebrating the National Fundraising Day. We looked at a number of ideas but the pupils, not surprisingly, went for the game playing day in a big way!'
Skerries ETNS will don fancy dress for the day says principal Tomás Hickey 'All the pupils are really excited dressing up. All the talk in the school is about what everyone is going to come as. I think it will should be a good fun day and it is great to be able to support Educate Together – just as they support our school'.
Thornleigh ETNS in Swords will also have fancy dress with the children dressing up as their personal heroes. Principal Paula Carolan says 'Everyone in the school is taking part and all the costumes will be home-made. This gives the children a great opportunity to show their creative ideas and their arts and crafts skills'.
Parents, pupils and staff in Carlow ETNS schools will participate in a virtual 'Cycle to Dublin' in support of the day. Carlow ETNS Principal Simon Lewis is looking forward to the event 'Everyone in the school is looking forward to celebrating the National Fundraising Day. The support of our parents has been great. The cycle is a fun way for us all to contribute and the exercise will do no harm either! We are also looking forward to a performance of 'Thriller' by Claire McInerney's dance class.'
Monkstown ETNS Principal Rosario Kealy is looking forward to the week's events 'Everybody associated with Monkstown Educate Together is invited to take part in our celebration. Educate Together's ethos of inclusiveness, equality and democracy are values that define our school's educational approach and make it special. This week is about celebrating these values and supporting Educate Together's ambition of making such schools available to every community in Ireland '
Parents, pupils and staff in Drogheda's two Educate Together schools, Aston Village and Le Chéile ETNS are also getting ready to mark the day. Aston Village Educate Together Principal John Kelleher is looking forward to a day of fun for all 'Pupils and staff at Aston Village are having a 'Fruity Friday' to mark the occasion. We will be covering the theme of fruit and healthy eating and all subjects taught in the school will focus on fruit in their content. Some are really getting into the spirit of things and will dress up as fruit also! We plan to have some fun, encourage healthy eating and raise funds for a worthy cause'.
Paul Rowe, Educate Together CEO, hopes the day will be a big success 'There is a great spirit of participation in Educate Together schools. We have opened a number of schools in recent years and they have all established themselves as vibrant parts of their local communities. This success is due to the great team spirit in the schools led by their great staff and supported by parents and volunteers'.
Paul Rowe continues 'Volunteering lies at the heart of the Educate Together movement, our schools couldn't operate without this committed support. October 28th will be great fun and it will directly benefit our schools, we hope everyone gets behind it'.
Any person wishing to join the fun should register on the National Fundraising Day Page
Please support this cause and make a donation to Educate Together