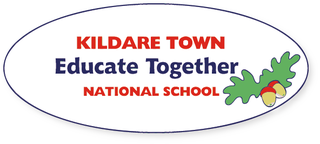 The Principal of Kildare Town's newest primary school has said he is delighted with the warm and positive welcome the new school is recieving. The new Principal, Gerry Breslin has already started work with the local start-up committee. Gerry said:
It's a great privilege to be the first Principal of Kildare Town Educate Together and I am really overwhelmed by the response of people to the new school. I've been meeting some of the parents in the last week and have been blown away by the positive and welcoming attitude to the new school.
The sentiment of a lot of people seems to be, 'we're delighted the school is now here, it's long overdue'. I know Kildare town is a place with a very strong community spirit and I think our inclusive, child centred approach to learning is a really good fit for the town.
The school which is opening in September will operate under the patronage of Educate Together. It is still processing enrolments for the coming school year and is inviting parents to get in touch to find out more about the school. Gerry is currently the Principal of Portlaoise Educate Together National School and has worked in the Educate Together sector for seven years. He has extensive experience in the development of new schools, having been involved in the development of two new Educate Together schools during his career. Judith O'Connor of the Educate Together start-up group in Kildare Town said:
We are delighted with this next step on the road to our new school and we are looking forward to working with Gerry to make sure that our new school is the very best for our children."
Gerry met with some of the new parents at an information meeting which was held in Kildare Education Centre last week. Parents were told of the plans for the new school which is to be located in the former VEC building at Tower View Park, while arrangements are being made for the school's permanent building. The school will open with one class of junior infants, the principal and a second teacher. Families wishing to pre-enrol children in the new school can do so at www.kildaretownet.ie Like the Kildare Town ETNS Page on Facebook