Susana Núñez, Education Officer (second-level)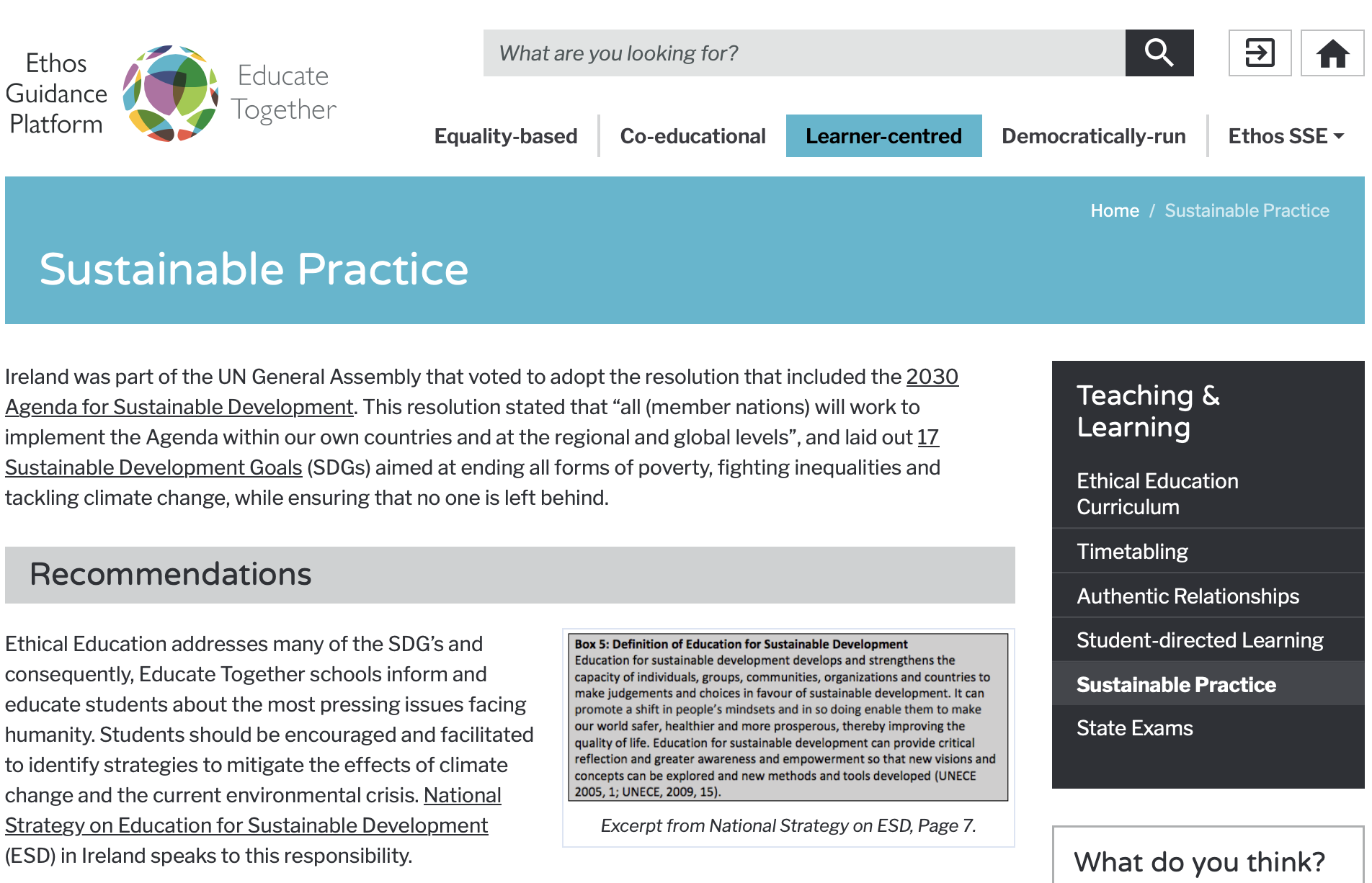 Many people are familiar with Educate Together's Ethos Guidance Platform. For those that are not, it is an invaluable online resource specially designed for schools in our network which serves as a compass in embracing and upholding the Educate Together ethos. Each edition of Ethical Education Matters newsletter examines a particular topic from the platform. This issue will explore Sustainable Practice.
Educate Together schools should aim to embed ESD Sustainability across all areas of the curriculum and instill a sense of responsibility and pride in our natural environment.
One important aspect of ESD is an awareness of the Climate Emergency. Our schools' teaching and practices should reflect efforts to address this crisis. In keeping with an announcement from the Department of Communications, Climate Action & Environment on 4 January 2018, schools and all public bodies should lead the way in reducing single-use plastics, ensuring that single-use plastic cups, cutlery and straws are not purchased or used in the school setting.
To support the application of the Ethical Education curriculum to real life Educate Together schools should aim to demonstrate exemplary practices in waste management, water usage, the adoption of renewable energy sources and where possible the development of their grounds to promote biodiversity.
Read more about Educate Together's Guidance on Sustainable Practice here, and find out about the numerous examples of good practice across the network, including the inception of the Junior Cycle Climate Action Short Course led by teachers and students in the network. If you would like to share any examples of good practice, please contact one of the team.
You can also read about other examples of good practice from the network recently published in the September issue of the Education for Sustainable Development Newsletter:
Celbridge CS – winner of a small grant towards ESD projects for their contribution to the ESD September issue.
Stepaside ETSS – winner of the May ESD Newsletter Photo Competition for Schools with their "No Mow, Let it Grow" and their wildflower meadow.