Sallie Ennis, Stepaside ETSS teacher
After almost six months of school closures, teachers across the country have been working tirelessly to get schools Covid-ready.   
Almost Home 
Our re-opening in Stepaside ETSS also marks another new beginning in the short history of Stepaside ETSS. We are finally located on the site of our new school building.  This represents our fourth move since we opened originally in 2016, from prefabs in a car park of a rugby club to prefabs on the building site of Stepaside ETNS before moving temporarily to share their beautiful, finished building. We are grateful to finally be on the site of what will be our permanent home.  
The transient nature of our school accommodation has taught us all a great deal about resilience in the face of uncertainty and change. I hope too that it has taught our students to show empathy towards those who are new to the school and the locality, and, more widely, to young people whose whole lives have been uprooted by external forces.  
So, when the opportunity arose to become one of two Dublin pilot Schools of Sanctuary we jumped at the chance.   
What is a School of Sanctuary? 
A School of Sanctuary is one that helps its students, staff and wider community to understand what it means to be a person seeking sanctuary and extends a welcome to everyone as equal, valued members of the school community. It is a school that is proud to be a place of safety and inclusion for all.  Schools of Sanctuary work in particular with children who are refugees, asylum-seekers and other vulnerable migrants. 
Schools of Sanctuary have never been more essential 
At a time when one in every 122 people globally is now either a refugee, internally displaced, or seeking asylum and with more than half of any refugee population being children, Schools of Sanctuary have never been more essential. 
As we embark on a new school year with over 100 new students and seven new staff, it is vitally important to us all that our school is inclusive and welcoming and one that provides a sanctuary for all. With this in mind, we will also be using a six week programme called 'Change' which was developed by the Jesuit Refugee Service and aims to encourage secondary school students across Europe to think critically about the issues of refugees and migration. With links to Junior Cycle Ethical Education Curriculum strands, Values, Diversity in Ireland and Migration, and the Senior Cycle Strands Identity, Inclusion and Diversity and Power and Privilege, the Schools of Sanctuary and 'Change' programmes effortlessly support the ethos and values of our school.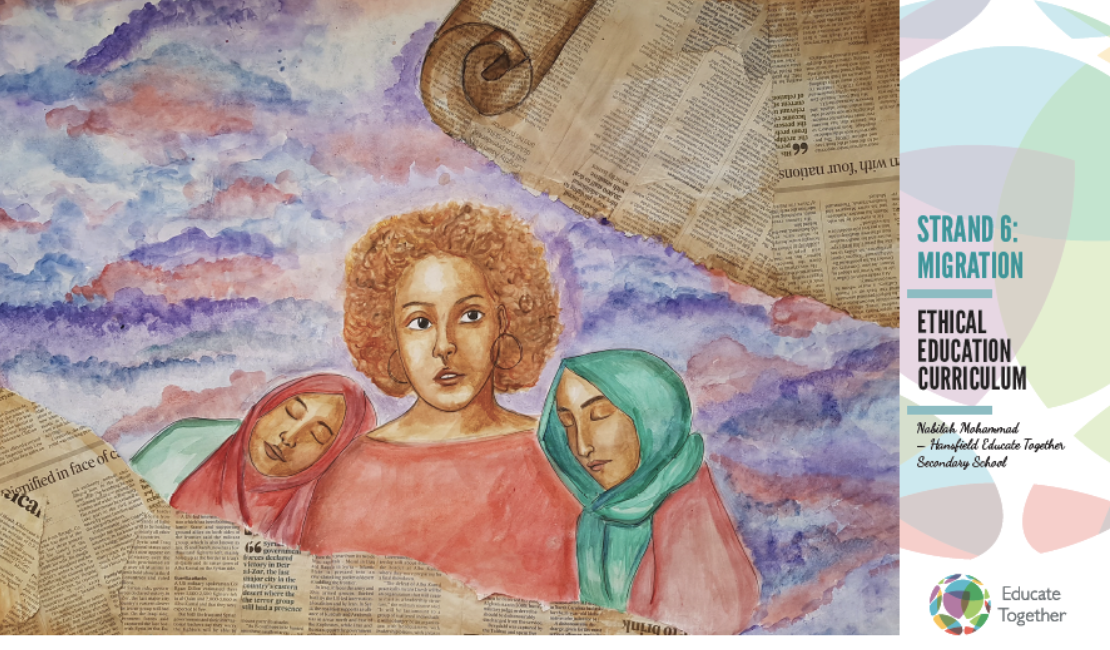 Linking to Ethical Education  
In order to maximise the impact of being a School of Sanctuary, all Ethical Education classes will explore the same key themes for the first six weeks, with teachers working collaboratively to embed learning and set the tone for the rest of the year. Students will then collectively decide upon the actions needed to ensure our school is a welcoming and inclusive place of learning and one that affirms and validates diversity. 
For more information about the Schools of Sanctuary or to enquire about becoming a School of Sanctuary please contact Tiffy Allen at tiffy@cityofsanctuary.org.  
Click here if your school would like to find out more and To register for the 'Change' programme.
The Educate Together Junior and Senior Cycle Ethical Education Curriculums and associated resources are available to access online from the Educate Together Resource bank.