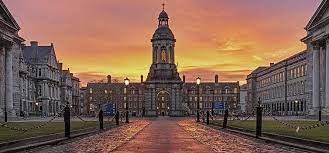 Fully funded PhD Research Opportunity in Sociology  
'Growing Up in Multicultural Ireland: The School-Community Relationship' 
The Department of Sociology at Trinity College Dublin in association with Marino Institute of Education (MIE) is seeking to recruit a highly motivated and outstanding doctoral researcher for a period of 4 years (48 months). The ideal candidate will have an in-depth knowledge of the Irish education system and sociology of education, and ideally will have experience working in an Educate Together or Community National School.  
Post specification 
Post Title:

 

PhD Researcher in Sociology: "The School-Community Relationship Study"

 

Post Status:

 

48 months

, Full-time

 

Starting Date:

 

September 2023 (ideal start, but with degree of flexibility)

 

Department/Faculty:

 

Department of Sociology, School of Social Sciences and Philosophy 

 

Reports to:

 

Prof. Daniel Faas; Dr. Aimie Brennan 

 

Location:

 

Trinity College Dublin & Marino Institute of Education (Dublin, Ireland)

 

Salary:

 

PhD Researcher. Full fees (EU) plus Euro 20,000 per annum (18,000 stipend and 2,000 pay for teaching at MIE)

 

Closing Date:

 

28

th

February 2023

 
Post Summary 
Doctoral Researcher in Sociology  
The person appointed will conduct an innovative PhD project that will consist of a study of the interaction between external stakeholders in the community (such as faith communities and parents) and internal school actors (such as teachers and principals) and the consequences of these interactions for both the formal ethos that is established and the actual informal understandings, practices and behaviours. The project examines what form the school-community links take and which interests, values and social norms of the local 'community' become active in the school. The project builds on an emerging research strand, exploring school ethos and the role of religion in Irish primary schools. It uses a multi-method qualitative case-study design to gather data from school stakeholders and community stakeholders in two schools in an urban community with high levels of migration, and two schools in a rural community with low levels of migration. 
Questions to be examined include but are not limited to: To what extent do teachers and principals see themselves as serving the religious and social ethos of 'the community' or do they prioritise other principles? Does the influence of the community depend on whether teachers/principals share the same ethos? To what extent does stated ethos vary between schools and if so, what role do stakeholders (i.e. teachers, principals, faith communities, parents) have in producing this variation? Does the social, economic and ethnic composition of the catchment area for a Community National School matter? To what extent do the stated policies and practices reflect their actual practices? What do policymakers think about this new school model and how do they as external actors interact with the school? To what extent do parents and their children engage with each other outside school? 
The successful candidate will be integrated into a PhD project that will provide an innovative approach to the study of school-community links in Ireland using the community national school model as a case study. The project will give the student an opportunity to carry out innovative theoretically informed and policy relevant empirical research that will generate new knowledge. Theoretically, this project is novel in its holistic focus on horizontal (e.g. faith communities) and vertical (e.g. policymakers) agents/stakeholders in the community and its examination of the dynamics between schools and communities. The successful applicant will gain skills in project management, research communication and policy-oriented research practice. Furthermore, the prospective candidate has an opportunity to draw on the expertise from colleagues in Marino Institute of Education (notably Dr Aimie Brennan who acts as co-supervisor of this study). The project will be funded through a joint venture between the department of Sociology at Trinity College Dublin and Marino Institute of Education.  
Major research activities conducted by the PhD candidate will involve (1) reviewing the literature on school ethos and community studies before identifying schools appropriate for inclusion in the study; (2) designing a range of qualitative research instruments including semi-structured interviews and focus groups; (3) working with large qualitative datasets; (4) engaging in summarizing and interpreting results for social science audiences with policy implications; (5) presenting work in front of different audiences at local, national and international level in conferences or networks; and (6) publishing four journal articles arising from the study together with the Supervisors.    
Standard duties of the post: 
Critical, systematic and analytical review of relevant literature for the project

 

Writing academic pieces (articles/dissertation chapters) in English

 

Conducting empirical research using qualitative techniques

 
Actively writing and submitting research papers for publication and contributing to joint projects or related submissions with the PhD supervisor/s

 

Organising and attending meetings, workshops and conferences

 

Disseminating academic work to specialised and general audiences

 

Approximately 4 hours of teaching a week during the statutory term (facilitating undergraduate sociology and research methods tutorials), 1 semester in Trinity and 1 semester in MIE per year

 
 Person Specification 
Qualifications 
MA, MSc or MPhil in Sociology, Education, Social Policy or in any cognate fields (thesis should be either defended or submitted)

 
Essential research skills 
advanced qualitative skills including proven skills in data analysis packages such as NVivo (or other similar qualitative analyses packages)

 
basic (preferable solid) knowledge in the field of sociology of education or other related field

 

good knowledge in case-study research designs

 
Other essential knowledge and skills 
good knowledge of the Irish education system

 

excellent written and verbal communication skills in English

 
willingness to contribute proactively to the development of the project

 

strong motivation to publish in academic journals

 

good organisational skills and ability to meet deadlines 

 

ability to work effectively in a team

 
Informal enquiries are welcome and can be made directly to Professor Daniel Faas (Department of Sociology at Trinity College Dublin; daniel.faas@tcd.ie).  
Application Procedure 
 Candidates should submit:  
a motivation letter clearly indicating how the applicant's profile and skills fit the requirements of the job position (max. 2 pages);

 

a full curriculum vitae 

 
the names and contact details of 2 or 3 referees (with email addresses included);

 

at least one example of a written piece (expected in English) that shows the analytical and writing skills of the candidate in a social science discipline.  

 

via email to

daniel.faas@tcd.ie

 

 

with CC to

aimie.brennan@mie.ie

 

 

by Tuesday 28

th

February 2023 (23:00 GMT),

 

 
indicating exactly "PhD Application – School-Community Study" in the subject line.