Sarah Molloy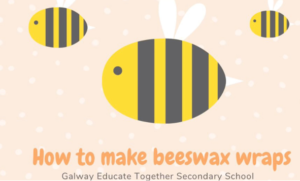 Single-Use Plastic-Free Policy
As part of a project for the Eco Unesco Young Environmentalist awards, the Green Team in Galway ETSS contributed to the development of a Single-Use Plastic-Free policy for the school.
The students took part in a litter pick in the local area, collecting over 16 bags of mostly single-use plastic. This was achieved with the support of the GETSS Parents' and Guardians' Community, Galway City Council and the Department of the Environment. They even had special reusable bags made by a students and parents.
The Green team surveyed the students, staff and parents and discovered that the most commonly used plastics at home and at school were cling film and sandwich bags. In response the school organised an online demo on how to make your own beeswax wraps.
All of the staff and students are now encouraged to use reusable water bottles and there is a commitment to avoid single-use plastics wherever possible. In Home Economics, for example, cling film and tinfoil are no longer used and in the Technology room tools with wooden, as opposed to plastic handles, are now used . Tea bags are going plastic-free, disposable wipes have been replaced with cloth and recycled-plastic dust pans and bamboo brushes were purchased when needed.
Teacher packs on single-use plastic available for both primary  and secondary.
Project/Problem Based Learning in Galway ETSS
The theme of a three day PBL was How to Make the World a Better Place. The students were tasked with identifying, researching and solving a specific concern.
The Negotiated Integrated Curriculum approach gave students the opportunity to identify these concerns which included World Hunger, Wellbeing, Litter, Corruption in Politics, Homophobia, Deforestation and Poverty. Each group designed an infographic to display their research which was linked to one of the Sustainable Development Goals and on the final day, students presented their projects to their class. They then reflected upon their experience, recognising what went well and what might need improvement. The students had some brilliant ideas from wellbeing apps to drones that would plant and water seeds, robot rubbish collectors and even a bee hotel!