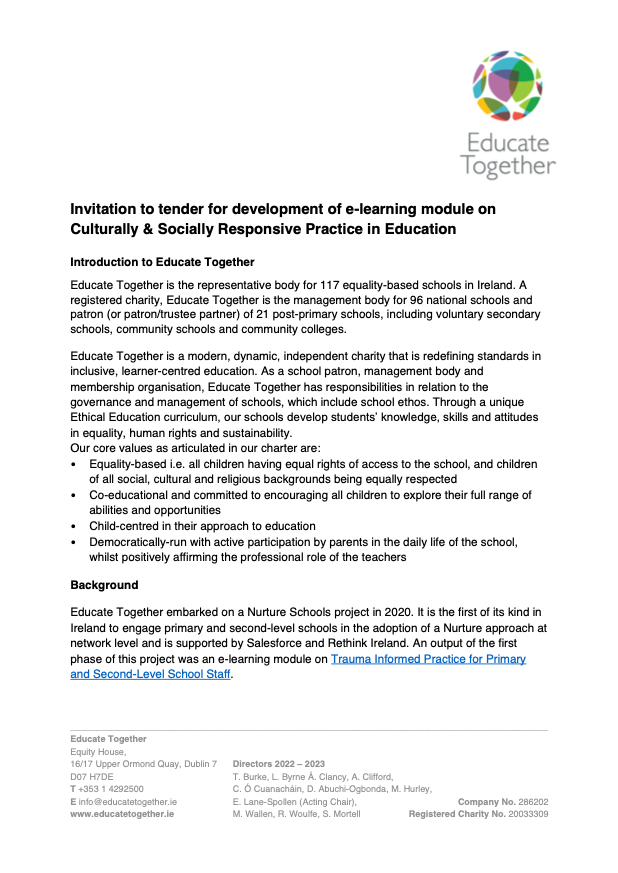 Educate Together embarked on a Nurture Schools project in 2020. It is the first of its kind in Ireland to engage primary and second-level schools in the adoption of a Nurture approach at network level and is supported by Salesforce and Rethink Ireland. An output of the first phase of this project was an e-learning module on Trauma Informed Practice for Primary and Second-Level School Staff.
Educate Together now seeks an experienced person/team/organisation to design a similar online module for school staff and volunteers in primary and second-level Educate Together schools on the topic of "Culturally and Socially Responsive Practice." This module will recognise the diversity of school communities and the ways in which identities, backgrounds and inequalities intersect, challenge participants to address social as well as cultural biases, and provide examples of good practice.
The module will be hosted on Educate Together's e-learning platform (Moodle) and is intended to be undertaken independently by learners.
Please see the full tender document here.
Tenders should be sent by email to susana.nunez@educatetogether.ie marked Tender. Application in the subject line before 5pm on Monday 14th November 2022.