"To every cow belongs its calf; to every book its copy."
By Sandra Irwin-Gowran, Educate Together national office 
If you are knowledgeable enough to know the origins of the quote in the title of this article, you are either a history buff with an extensive knowledge of early Christian Ireland or, you're well up on Irish copyright law. In any event, the quote is attributed to the 6th century High King of Ireland, King Diarmait mac Cerbhaill, who was called on to arbitrate a dispute between two saints, Columba and Finian over a transcript of the Bible. The dispute and resulting judgment are considered to be the first recording of copyright laws in Ireland.  
The King ruled in Finian's favour and famously said, 'to every cow belongs it's calf; to every book its copy', in other words, every copy that is made of a book belongs to the owner of the original book. Thus, marking the beginning of Irish 'copyright' law.   
Recently staff in the national office met with Samantha Holman who is the CEO of the Irish Copyright Licensing Agency (ICLA) by day; parent from the North Wicklow ETSS school community and board member of Goatstown ETSS by night. Samantha imparted her extensive knowledge of Irish and international copyright law and told us the story of Finian's transcript along with many more recent developments which are important for schools to know so as they can avoid the pitfall that Columba found himself in, here's a synopsis: 
Copyright protects a covers a wide area, but it boils down to protecting the exclusive rights of the author and includes the following: original literary, dramatic, musical and artistic works (classical works), sound recordings, films, broadcasts, cable programmes, typography of published editions (related rights), computer software and databases and performances.
Copyright lasts

a very long time! More specifically, it lasts for the lifetime of the author…plus 70 years. Related rights have a shorter span of 50 years. 

 

The exclusive rights that copyright protects relates to: 

 

Copying

 

Making available to the public

 

Making an adaptation 

 

Performance

 

Display

 

Rental and lending 

 

Licences can be purchased to safeguard the rights of authors and producers. The good news for schools is that since September 2022 the Department of Education took over the

over payment of the licence for schools in Free Education Scheme which means that each school no longer needs to apply (or pay for) an individual school license. 

 

It's not just good manners to acknowledge an author, it's the right thing to do and it's the law!
What does your school licence allow you to do? 
ICLA have produced a one-pager which would be useful to download and post in your staffroom – you'll find that here. In short, it means that you can copy up to 5% of book, or an article from a newspaper to support a particular course of study.  It does not cover you for photocopying ordnance survey maps, for example.  
Here's a summary of what each school should be doing, hopefully ICLA will be ok with us using their slide to impart this information!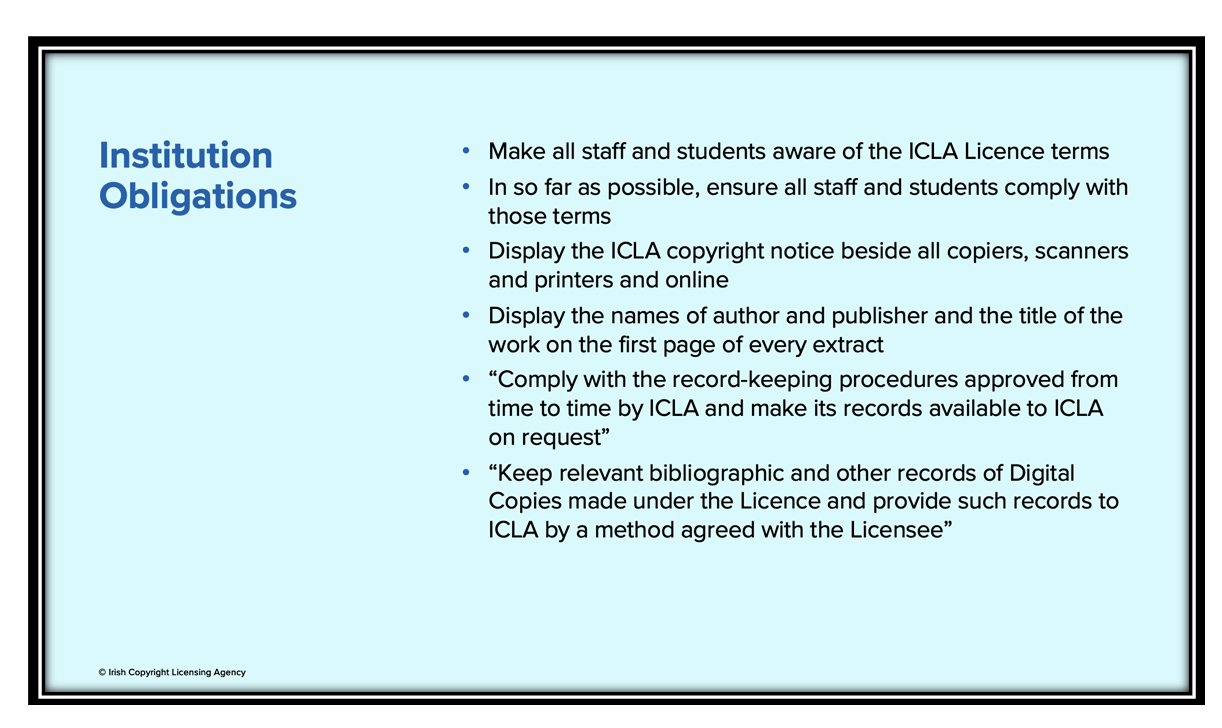 For more information visit ICLA's website.