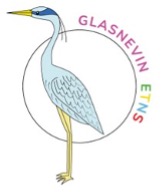 Glasnevin Educate Together National School (Glasnevin ETNS) marked the school's 20-year anniversary and launched their fully functioning library with a small gathering on the morning of Thursday 1st September. There were representatives from past and present Board of Management's, staff, pupils and parents in attendance, including Paul Rowe, retired CEO of Educate Together. 
The event paid tribute to all in attendance as well as acknowledging the wider community, many in a voluntary capacity, who made the school what it is today through their contributions over the past twenty years. It reflected the school's journey: growing from 25 pupils on the 1st of September 2002 to a full single stream-school and then to a double-stream school with 393 pupils; building a team to support all the children; the campaign for a new building and – in the last 5 years – development of this space with a new library, sports equipment and facilities, log cabin, gardens, outdoor classroom and spaces and, in 2019, a beautiful fused-glass 'Percent for Art' installation. There were also musical performances by students and teachers. 
In addition to getting together to celebrate, the occasion was marked by changing the school emblem from the handprint to the heron. The heron – a calm, patient, balanced, self-reliant team player, represents the sort of school environment the staff endeavour to provide. The whole school community were invited to take part in an art competition, and the chosen image was drawn by a 6th Class child. 
Back in 2002, the school was originally intended to be the Dublin North Central Educate Together National School. It was only when a planned site in Killester was refused that the school came to open in the old building in Glasnevin, and the name was changed. In the twenty years since then, the challenge of opening a school in the Clontarf/Fairview area has continued, and it is fitting that this year, in Glasnevin ETNS's 20th year, a permanent building was finally found in Killester for Killester Raheny Clontarf Educate Together National School. 
Speaking about the anniversary, Emer Nowlan, CEO of Educate Together said:  
Congratulations to all the students, staff and parents of Glasnevin ETNS on this important milestone, and on their many achievements over the past 20 years. We owe a debt of gratitude to the original start-up committee that first campaigned for an equality-based school for the North Dublin City area. It is wonderful to see now how Glasnevin ETNS is thriving as a welcoming and inclusive school for the whole community.