An impressive extension to Thornleigh Educate Together National School was completed over the summer, in time for the new school term!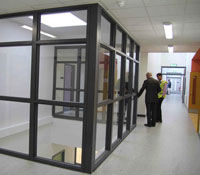 The extension adds 10 classrooms, a library, SEN rooms, a parents liaison room and a general purpose hall to the existing 8 classroom school. The expanded state-of-the-art facility will double the capacity of the school and give it plenty of scope to develop as centre of creative learning for many years to come. A big thank you to the Department technical staff, project management team and builders ABM.
Educate Together CEO Paul Rowe popped in to visit the school last week, here's his report:
Everyone I met was really enthusiastic. The school now has a proper parents room and general purpose hall. Thornleigh ETNS is a DEIS Band 1 school on account of the large number of children with significant English Language needs. Opened in 2008, Thornleigh ETNS has established itself as a school in which extraordinary learning opportunities are provided for children. The Principal, Paula Carolan has a business and Psychology background and has brought "The Incredible Years" programme to the school. This is a school at which Irish children are learning many languages and finding about many world cultures in the schoolyard and classroom. This state-of-the-art extension will and guarantee the school's future growth.