Educate Together today marks the new school year with the opening of two schools. New school Kildare Town ETNS accepts its first Junior Infant class while Holywell ETNS Swords opens its state of the art new building.
Kildare Town ETNS, is one of five new Educate Together national schools opening this term. New schools will also open in Ashbourne, Co Meath and Ballinteer, Citywest and Stepaside in Co Dublin.
Kildare Town ETNS welcomes its first Junior Infant class with a formal ribbon cutting ceremony. Principal Gerry Breslin is looking forward to the arrival of the new pupils:
'The first day of a new school is always exciting. There has been a great response from parents locally and we look forward to our school becoming a vibrant part of the Kildare Town community'.
Kildare Town ETNS is one of a number of new schools the Department of Education & Skills has sanctioned to open in the coming years to meet large increases in the school going population. 2012 is a year of growth for Educate Together as in addition to new schools, existing school infrastructure has been enhanced with the expansion of Thornleigh ETNS in Swords as well as the new building in Holywell.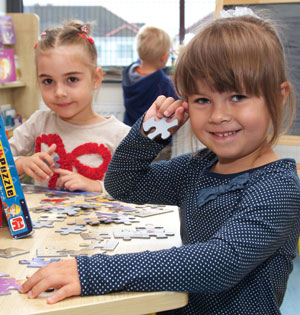 Holywell ETNS Swords was established in 2010 with 21 pupils housed in two prefabs. It welcomes 237 pupils into its brand new building for the new school term. Pupil numbers will exceed 700 when the school reaches full capacity in the coming years. It joins Tyrellstown ETNS and Ashton Village ETNS as three-stream schools in the Educate Together school network.
The new building project commenced in January and was formerly handed over by the Department of Education & Skills to Educate Together on August 24th. Built by ABM Design & Build and project managed by Healy Kelly Turner & Townsend on behalf of the Department, the new school in Holywell ranks amongst the finest primary education facilities in the country. In addition to 24 mainstream classrooms, Holywell ETNS will also open a 12 pupil ASD unit and its school hall will serve as a shared community facility outside of school hours.
Educate Together has been providing multi-denominational education in Ireland since 1978. There are now 65 primary schools in the network and three second-level Educate Together schools have been sanctioned in Blanchardstown, Drogheda and Lucan.
It is expected that pupil numbers in Educate Together primary schools will approach 16,000 this year.
New National Schools Opening in 2012:

Ashbourne, Ballinteer, Citywest, Kildare Town, Stepaside

New School Building openings 2012:

Holywell, Thornleigh (Swords)

Second-level Schools Sanctioned in 2012:

Blanchardstown, Drogheda, Lucan