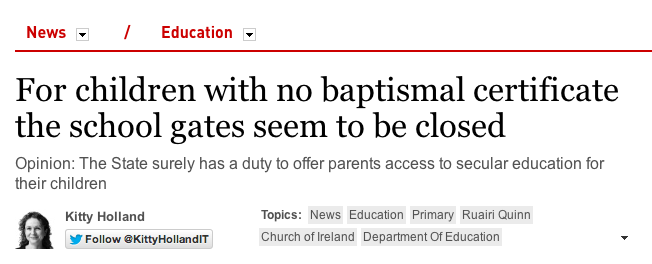 Educate Together has noted with interest Kitty Holland's article in today's Irish Times, "For children with no baptismal certificate the school gates seem to be closed" (available online).
Educate Together is aware of the high demand for multi-denominational school places in Dublin 6, and has been campaigning for a number of years for greater diversity of school type in that and other areas of Dublin. Over the years it has been extremely difficult to persuade government and education partners of the necessity to address the serious human rights issues involved. This situation has thankfully improved in the last two years, but progress remains slow. Kitty Holland's article today clearly explains the seriousness of the issue, and it has also been forcibly raised in the Oireachtas this week by a delegation from Atheist Ireland.
The very welcome opening of Portobello ETNS in September 2013, and Shellybanks ETNS in Dublin 4 in September 2014 will not be enough to meet the rising demand for multi-denominational school places. The Department of Education and Skills surveyed parents in Dublin 6 earlier this year, and the need for additional Educate Together schools across the entire area was formally recognised.
There is now an urgent need to provide greater diversity of provision in the area, and we look forward to working with existing patrons, the Department of Education and Skills and the local community to find solutions.
Regarding enrolment policies, Educate Together has previously called for a link to be established between the State funding of schools, and an obligation to ensure equality of access to all, regardless of social, cultural or religious background. Educate Together has also called for a system of coordinated school enrolment. Read Educate Together's recommendations here.