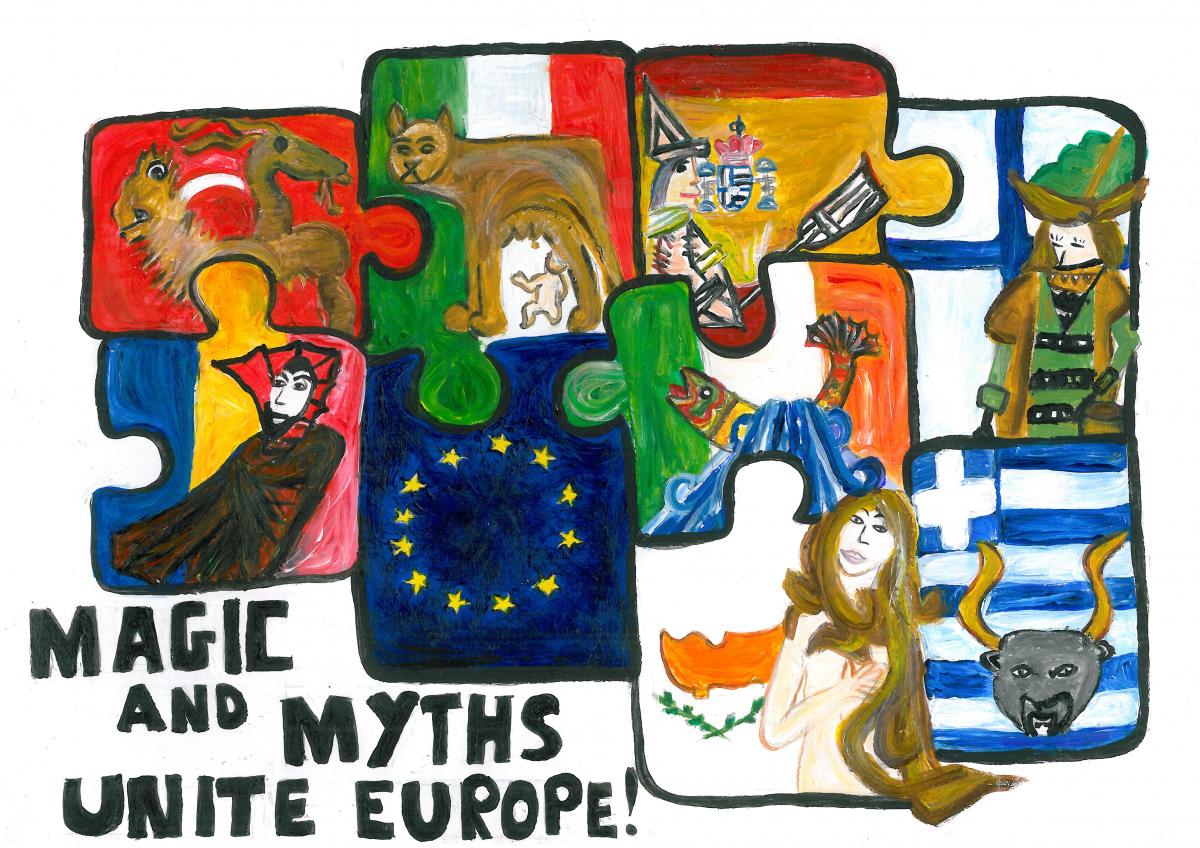 Something very exciting is happening in Le Chéile ETNS in Drogheda this May! Over the past two years we have been involved in an Erasmus+ project called 'Magic and Myths Unite Europe'. The main aim of this project is to teach our children that although Europe is a diverse continent we are all united through our love of stories, particularly myths and legends.
This 'Magic and Myths Unite Unite Europe' is an EU funded Erasmus+ project. We started working on the project in September 2015 and it is due to end in June. There are eight countries involved in this project – Turkey, Finland, Spain, Cyprus, Romania, Italy, Greece and Ireland.
What are the project aims?
This project aims to show our children that even though Europe is very diverse, we are all united through a love of story – particularly myths and legends.
Children will see that myths and legends around Europe share many common themes e.g heroes and villains.
Children from minority groups will feel more included as they can also share myths and stories from their cultures.
All children will be able to make a valuable contribution to the project as we use a variety of different media throughout our project e.g some media we have used to express the project include art, creative writing, photography, music, dance, ICT.
Teachers view teaching and learning in other countries.
Unfortunately all good things must come to an end and we must close our project. From May 10th -14th visitors from seven of our partner countries will be coming to Ireland to visit Drogheda and most importantly Le Chéile ETNS. This is a big event as it is the last time teachers from all eight countries will be getting together. We know our visitors will be really impressed as we have been working really hard on decorating our already fabulous school. Each class group has focussed on a particular partner country, learned about this country, made decorations and made some art from this country.
Our guests will arrive in Drogheda on Wednesday the 10th and the school has organised an Irish dance display with some of the talented teachers and pupils and Third class have prepared a spectacular assembly all about myths from the different countries. Following this assembly, the visitors will be taken on a tour of our school. They will visit each classroom where classes will show off their hard work and perhaps perform a song, dance or maybe just ask our visitors some questions about their schools and countries.
Following our tour the sixth classes will show our visitors some gaelic fooball skills to show off our national sport.
Later on Thursday the visiting teachers will do the walking tour of Drogheda, taking in some great sights such as Millmount, the River Boyne and Oliver Plunkett's head.
To finish the evening we will have dinner together and we have organised for our friends to experience some traditional Irish music.
Friday will be another busy day. We will start our morning with the close of project meeting, where we will review and evaluate the project. We will also discuss what is going to happen after the project and how we will all stay in touch.
At 11.00 we will have our final closing assembly. The third and fourth class children have been working hard on a dance extravaganza which incorporates elements from all the eight countries. We know our visitors are going to really enjoy it. We will play a slideshow of some of our favourite memories from the project, hear from the choir and then after some speeches, we will enjoy some tea and allow our visitors meet with the school community. Later on Friday we will take our visitors on a trip to visit the mythical Newgrange and majestic Slane Castle.
On Saturday, we have arranged for the guests to visit Dublin. They will join Le Chéile ETNS staff on the Viking Splash Tour, which we are all really looking forward to. After this they will all be free to visit the city's sites.
We will hold a final farewell dinner on Saturday night back in Drogheda, then sadly Sunday we will say goodbye to our friends…. It has been a super memorable two years and we will miss our friends and the project very much!
Heather Cummins
Le Chéile ETNS
http://magicandmythsuniteeurope.weebly.com