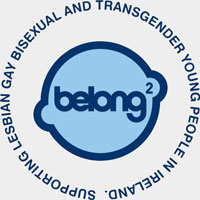 Addressing Homophobia in Schools – Face to Face Summer Course
In July 2012 Educate Together, in partnership with BeLonGTo, ran a professional development course for teachers challenging homophobia; an initiative which was long overdue in Ireland. The course was open to any teacher from any sector of primary and secondary education interested in addressing homophobia. We hope to run the course again in 2013. Emma Grainger, Educate Together's Ethos Development Officer, reports on how the course went:
Debate, exploration, explanations, conversation, realisation and cake!
It seems like oh so long ago, that first week in July! Teachers and Principals from around the country, from Educate Together schools, non Educate Together schools and post primary schools came together to take part in this week long course in Dublin.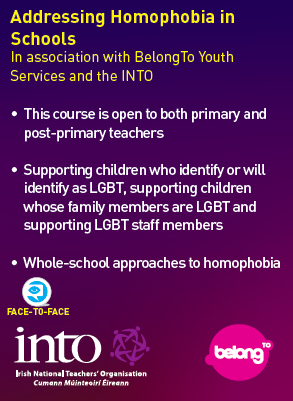 Some had chosen the course on the recommendations of colleagues from the previous year, others were already working on the topic in their schools and wanted to learn more and many were totally new to the topic.
The course began with a session on hopes and fears for the week ahead. Participants wrote down candidly what they wanted to get from the course and what they did not. This helped greatly in tailoring the course to the needs of the group.
Throughout the week there was debate, exploration, explanations, conversation, realization and cake! Highlights of the week had to be our excellent and informative guest speakers from GLEN, the INTO Equality Unit, BeLonGTo and Dr. Declan Fahy.
On the final day of the course, along with the usual evaluation forms participants were asked to look back at the hopes and fears they had written on day one and assess if they had gotten from the course what they hoped for. Happily we can report they all did!
Emma Grainger, Ethos Developemt Officer
The course was open to all teachers and principals. It gave them the knowledge and capacity to address homophobia, for example by:
Developing whole school approaches to homophobia;
Enhancing pastoral care of all pupils who experience homophobic bullying;
Promoting equality for pupils who may identify as Lesbian, Gay, Bisexual and Transgender (LGBT);
Promoting equality for pupils who have LGBT parents or family members;
Enhancing understanding of relevant equality legislation.