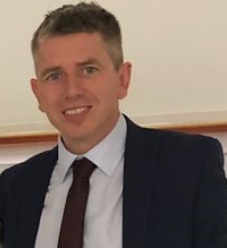 Educate Together is delighted to announce Donal Evoy as newly-appointed Principal of Booterstown Blackrock Dún Laoghaire ETSS opening in September 2021.
Donal comes to his role as Principal from Educate Together Secondary School Wicklow where he has been Deputy Principal since 2019. Before taking up his role as Deputy Principal, Donal was an advisor with the Junior Cycle for Teachers (JCT) professional development support service from 2017 until 2019.
Donal graduated from UCD with honours degrees in History, Politics, and English, and he then graduated from UCC with an honours Higher Diploma in Education. From 2000 until 2017, Donal taught Junior Cert and Leaving Cert English and History. Throughout his career, Donal has held various leadership roles including year head, IT coordinator, Student Council Liaison Teacher, and Special Educational Needs (SEN) coordinator. In 2017, he was awarded an honours Masters in Educational Management and Leadership by Trinity College Dublin.
Donal was part of the management team that led the establishment and development of ETSSW which opened its doors for the first time in September 2019. Donal's experience of the challenges and opportunities associated with starting a new post-primary school will be invaluable in his new role as Principal of Booterstown Blackrock Dún Laoghaire Educate Together Secondary School.
In his work as an advisor with the JCT, Donal supported teachers nationwide with the development of innovative teaching and assessment approaches, and in his capacity as Deputy Principal of Educate Together Secondary School Wicklow, he helped to embed these innovative practices into the ethos of the school. Teacher collaboration is another area that Donal places great importance on, and the Peer observation of Teaching practices that he introduced in Educate Together Secondary School Wicklow have helped to create a very dynamic professional culture that seeks to put students at the very centre of the teaching and learning process.
Donal places a great emphasis on extra-curricular activities, and from his involvement in Gaelic, soccer, debating, and the student council, he understands the positive impact that involvement in extra curricular clubs can have on students' engagement, participation, and wellbeing.
Of his appointment, Donal said:
'It is a great privilege to have been appointed as Principal to Booterstown Blackrock Dún Laoghaire Educate Together Secondary School. I am looking forward to leading a vibrant school community where students are inspired with a love of learning, a school with the highest academic standards where every student achieves their potential in an atmosphere defined by respect, democracy, and inclusion.'
Further information on the school and enrolment can be found here
Booterstown / Blackrock / Dún Laoghaire Educate Together 2021