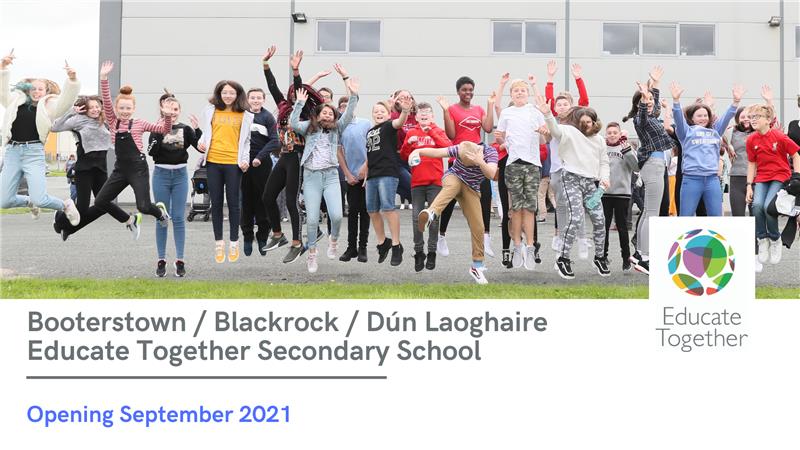 Educate Together is delighted to have been awarded patronage of a new secondary school in Booterstown / Blackrock / Dún Laoghaire, to open in 2021. Full statement here.
Enrolment is now open
Please note: Booterstown, Blackrock & Dún Laoghaire ETSS is only accepting applications in respect of first-year entry for the academic year 2021/22 at this time.
Teacher recruitment
Booterstown Blackrock & Dún Laoghaire ETSS invites applications for teachers who wish to work in our new school.
The school is under the patronage of Educate Together and is an equal opportunities employer. Canvassing will disqualify. Shortlisting will apply. Please be advised that the interviews for short-listed candidates may be face to face or by video conference.
The application form for all positions is available in MS Word document format by following this link
The closing date for receipt of applications is Friday 21 May 2021 at 17:00.
All applications must be submitted through our online upload portal
Please note applications received by any other means other than the online portal will not be considered.
Notes / Guidelines:
Successful candidates will be required to commit to the following: 
Exploring innovative teaching and learning by developing knowledge of methodology, collaborative practice, team teaching and peer observation;
Learning through discovery and blending technology with the best of traditional methods of education;
Developing integrated and theme-based learning initiatives;
Supporting positive behaviour and using restorative practice to build respect and awareness;
Working as a team to build a positive school culture;
Advice for candidates: 
The ability to teach more than one subject will be an advantage and is likely to have an impact on the total number of hours offered to successful candidates;
Experience of working with a wide range of abilities, special educational needs, English as a second language, guidance initiatives and/or behaviour support initiatives will be an advantage;
Applicants are also advised to visit the Educate Together website and read the Educate Together Charter and A Blueprint for Educate Together Second-Level Schools
All sections of the application form must be completed or clearly marked not applicable;
Incomplete application forms will not be considered;
Information other than that requested on the application form should not be included e.g. cover letter, parchments, certificates, C.V.s etc… – successful candidates will be asked for further documentation in due course;
A separate application form must be completed for each position being applied for;
Applications should be submitted through our online portal
The closing date for receipt of applications is Friday 21 May 2021 at 17:00
You must be registered with the Teaching Council in order to be offered a teaching position;
All appointments and hours advertised here are subject to Department teacher allocation and final approval by the DE.
Stay up to date
Downloads