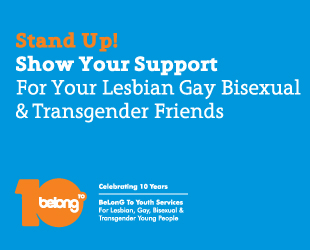 Educate Together is honoured to endorse BeLonGTo's Stand Up! LGBT Awareness Week in 2013: 11th – 15th March. Stand Up! tackles homophobic bullying by encouraging all young people to support their lesbian, gay, bisexual and transgender (LGBT) friends.
We at the Educate Together national office are really delighted and honored to endorse the Stand Up! campaign. Bullying is a problem that arises in many primary and post-primary schools, and it can have long-term repercussions for children and families alike. Educate Together is committed to tackling homophobic and transphobic bullying in all its forms.
More information on the campaign can be found on BeLonGTo's website.