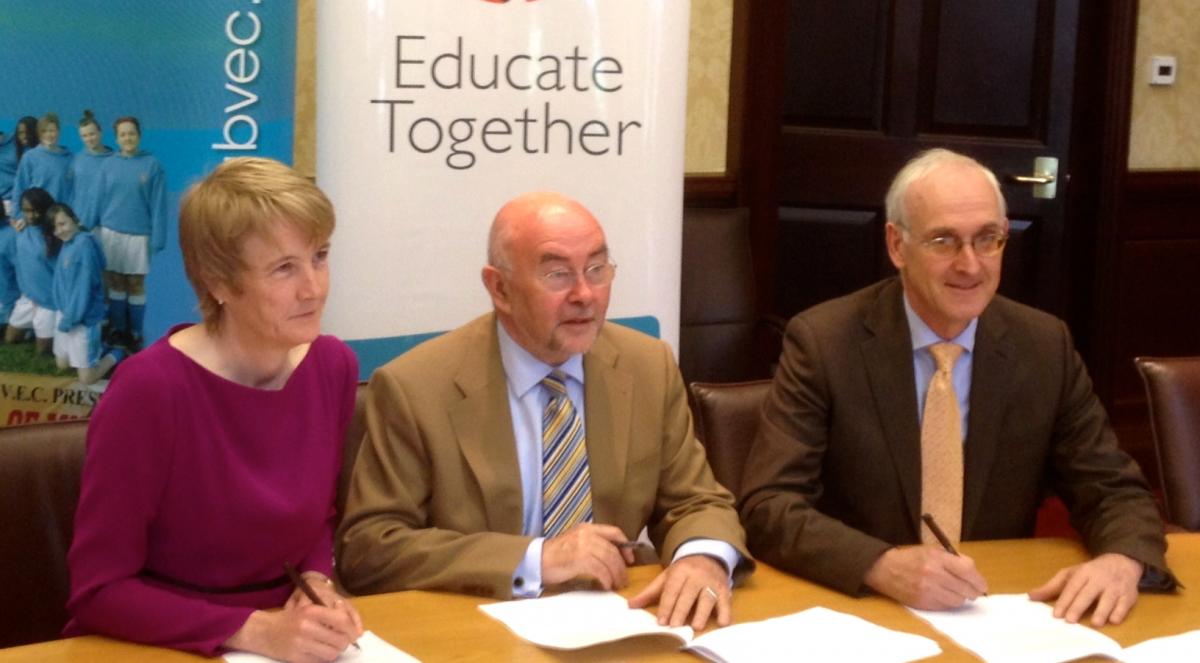 Representatives of Educate Together and Co Dublin VEC have formally signed a partnership agreement for the management of Kishoge Community College in Lucan. The signing took place in the Department of Education and Skills and was hosted by Minister Ruairí Quinn TD.
The agreement is a ground-breaking development for both patron bodies and brings a new operational model to second-level education in Ireland. Kishoge is a designated community college with County Dublin VEC as patron, in partnership with Educate Together.
Speaking at the signing, Minister for Education and Skills, Ruairí Quinn TD, said: "This agreement marks a new spirit of partnership between second-level patron bodies in Ireland. It is particularly good news for the Lucan community who stand to benefit from a new school that will deliver the latest innovative approaches to teaching and learning. I wish County Dublin VEC and Educate Together every success with Kishoge Community College."
Dr. Marie Griffin, Chief Executive of County Dublin VEC said: "We are delighted to progress the development of Kishoge Community College under the patronage of County Dublin VEC in partnership with Educate Together. County Dublin VEC will bring its extensive experience in education and in meeting the changing needs and requirements of the community to bear in the development of the new College. Kishoge Community College will therefore make an excellent contribution to the entire community of South Lucan with the most modern facilities and the highest standard of education. As an inclusive, co-educational and multi-denominational school, it will promote the formation of life skills which enable young people to meet their full potential in society."
Educate Together CEO Paul Rowe was also happy this day has come: "Educate Together has five primary schools in Lucan and there has been long-standing demand for a second-level school with our ethos. I am delighted that this partnership with County Dublin VEC will give Lucan a state-of-the-art second-level school with the ethos of both organisations."
Kishoge Community College will open its first phase in September 2014 and is currently accepting first year enrolments for that year. Further information on the school is available on both the Educate Together and VEC websites.