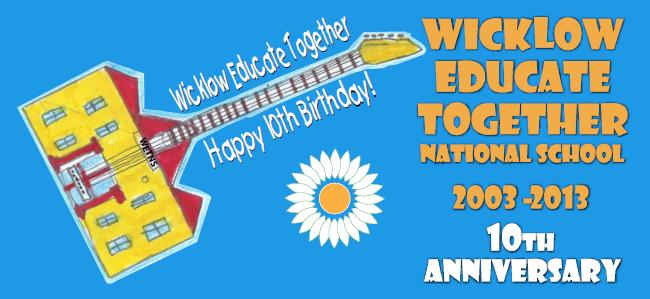 Celebrating 10 Years of Wicklow Educating Together, 20th September at the Grand Hotel, Wicklow Town
Wicklow Educate Together National School is 10 years young! To mark the occasion, the school is planning a night of celebration and Educating in Ireland in the 21st Century taking place on Friday, 20th September starting at 7pm with a reception at the Grand Hotel in Wicklow Town.
The organizers have prepared an outstanding line up of top-class speakers and entertainment. Presenters scheduled for the night include, Colm O'Gorman, Executive Director of Amnesty International Ireland and Mary O'Rourke, Former TD, Senator. Educate Together's CEO Paul Rowe will represent the Educate Together school network at the event. Colm is the founder and former Director of One in Four, the leading national non-governmental organisation that supports women and men who have experienced sexual violence. Colm has a long-standing interest in the education sector and was a founding member of Gorey Educate Together National School. He served for seven years as the chairperson of the board of management at the school. He is also a past-parent at Wicklow ETNS. He has served as a member of the Seanad Éireann and is also the author of the best-selling memoir, Beyond Belief. Mary O'Rourke is a vastly experienced legislator who has served as Tanaiste, Minister of Education, Health, Public Enterprise and Leader of the Seanad. In addition, she penned the best-selling autobiography Just Mary. Mary also serves on the Board of Directors at Educate Together.
The distinguished hosts for the evening will be RTE's Eileen Whelan and Mick Peelo.
The evening will move into céilí mode with live music by Mo Hat Mo Gheansaí, fresh from The Electric Picnic, and special guests. Please come along and join us for this outstanding occasion. Entry is free of charge. Adults only please.
RSVP to events@wicklowetns.com
www.wicklowetns.com/10-years-of-wetns/celebrating-10-years-of-wicklow-educating-together
About Wicklow Educate Together N.S.
Wicklow Educate Together National School opened in 2003 with just 24 pupils but now educates over 280 students from Junior Infants to 6th Class in 11 classes including a dedicated Autistic Services class. The school is scheduled to have building begin on new premises in 2014/15.
To learn more, please contact
Donna Connolly, PTA Chairperson, Wicklow Educate Together NS, 0872507740