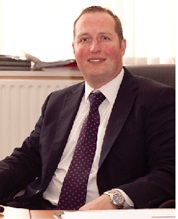 Louth and Meath Education and Training Board (formerly VEC) and Educate Together, joint patrons, are delighted to announce the appointment of Alan Mynes as Principal of Ballymakenny College, Drogheda.
Alan began his teaching career in 1994 and has been Deputy Principal in St. David's Artane since 2010. He holds a BA in English & Economics from St Patrick's College Maynooth and completed a Master's Degree in Education & Training Management (Leadership) in DCU in 2008. He brings to the role a wealth of experience in education issues and was responsible for School Development Planning and Adult Education during his career in St. David's CBS. His current responsibilities as Deputy Principal include timetabling and liaising with the State Exams Commission.
He is enthusiastic about working closely with teachers to create a warm, engaging environment for students. Alan identifies the ethic of teamwork and planning as the key ingredients for an effective school and is a strong advocate of collaboration and the use of ICT in the classroom. He has overseen the implementation of an eportal system into his current school.
Alan has always maintained a deep interest in extracurricular activities and its associated benefits for students. He has mentored Gaelic football and hurling teams at schools since his teaching career began. The Dublin native, now living in Drogheda, also played hurling for Louth and is an active member in the GAA.
Commenting on his appointment, Alan Mynes said:
"Ballymakenny College will be a flagship school for Drogheda combining state of the art facilities with teaching excellence. It's a very exciting time for education and the new school will provide marvellous educational opportunities for both students and parents."
Ruth Doggett, Chair of the Interim Board of Management for Ballymakenny College and Second-level Programme Manager with Educate Together has expressed the delight of both patrons in Alan's appointment. Educate Together and Louth and Meath Education and Training Board will be working with Alan to organise a 'Meet the Principal Evening" in the New Year for those students and their parents, starting in Ballymakenny College in 2014.