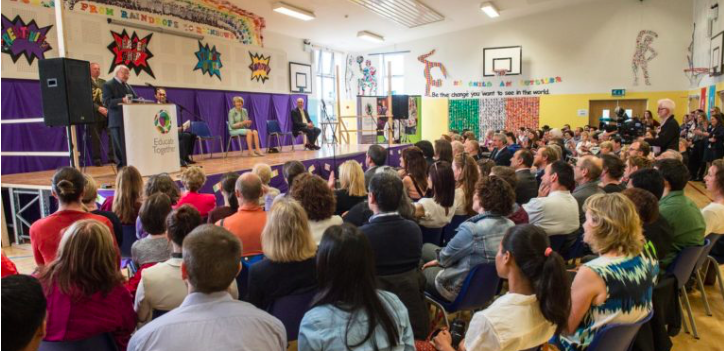 Annual General Meetings (AGMs)
Educate Together is a democratic organisation whose policy direction is set by its membership. The organisation's Annual General Meeting (AGM) is held in a member school each year. The event is an opportunity for members (Educate Together Boards) to shape the policies of Educate Together for the coming year.
TeachMeets
An Educate Together TeachMeet is where teachers give a five-minute presentation on an idea or resource that they found beneficial in teaching Ethical Education. These events include a mix of primary and second-level teachers. The great thing about an Educate Together TeachMeet is the variety of approaches and ideas that are shared by other teachers. Keep an eye on the Ethical Education Matters Newsletter for updates on upcoming TeachMeets.
One Day Together
Once a year we hold a national fundraising day – One Day Together – and ask the Educate Together community to come together, dig a little deeper and chat a little louder, to help us achieve our goal of providing inclusive, equality-based education to all families in Ireland who want it. Schools, start-up groups, alumni and families up and down the country mark the day with celebrations and fundraisers, all in aid of our charity Educate Together.
General Members' Meetings (GMM)
Educate Together's General Members' Meetings (GMMs) are organised by the national office and give members the opportunity to contribute directly and help direct policy development on key educational and organisational issues.
Ethical Education events
Educate Together often hosts events around a different theme relevant to the Ethical Education curriculum. In recent years, Ethical Education conferences have provided opportunities and a forum for educators and students to come together to exchange innovative teaching and learning practices, as well as to hear from leading experts in the field of the conference's topic.