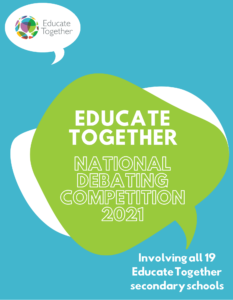 This year, school principals have created the first ever Educate Together All-Ireland Debating Competition. This is a truly national event involving 19 schools from all over the country (Cork to Galway, Limerick to Dublin, Wicklow to Drogheda).   
This is a unique debating competition for a number of reasons – students read speeches; they are involved in the judging; and the debating takes place online. The competition is first and second year students. There's four to a team and teams propose and oppose agreed motions. Additional time for questioning after each speech is allocated, so each speaker learns to deal with challenging questions.     
There are four groups in the league stages, guaranteeing every school 3/4 debates in the first round. The two top teams from each group will progress to the quarter-finals where the competition enters a knock-out stage through to the final.     
Debate topics include social media, online learning, freedom of the press and compulsory vaccinations. The competition promotes debating in our schools and creates opportunities for students across the network to share ideas, think on their feet, deal with questions, listen carefully and speak articulately.