By Sian Cowan, Pilot Coordinator, Climate Action Short Course Pilot Programme  
Interested in Climate Action? 
The pilot programme of the new Junior Cycle Short Course in Climate Action is currently recruiting.
A new Junior Cycle Short Course on climate action was launched in July 2021. The course was developed in adherence to NCCA guidelines by a team of educators with expertise in sustainability, including Educate Together teachers Jerrieann Sullivan (Cork ETSS) and Kate Minnock (North Wicklow ETSS). It is currently being taught in 15 schools, including four Educate Together schools. It is supported by the Climate Action Short Course Pilot programme, Irish Second-level Students' Union and is funded by WorldWise Global Schools and the Community Foundation for Ireland.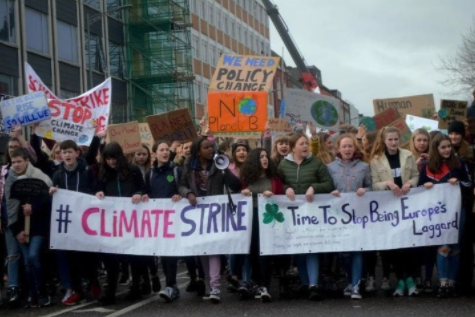 The aim of the short course is to empower young people to participate in decision-making about climate change and social change to realise a sustainable and just world for all. This is achieved by creating the space and experiences that support learners to 
find personal motivations and passion for climate action

 

explore the root causes of climate change and linked global injustices

 

develop a critical consciousness (both emotional and cognitive) of how environmental and social inequalities relate to their lives

 

imagine positive futures

 

become skilled and confident organisers of collective action for social change towards a just and sustainable society.

 
Colm O'Connor, Principal of Cork Educate Together Secondary School reflects on the importance of the Climate Action Short Course and why the school is participating in the project: 
 "In my view, there's a strong case for it to be included as part of the core curriculum in all schools. [It] is the first programme in our education system to truly acknowledge the seriousness and urgency of Climate Change. It teaches students accurate climate science but, equally importantly, it equips students with the tools and confidence to act collectively, based on consensus, rather than majority voting, a skill that will be essential when our society and economy come under inevitable strain. Young people know that doing the recycling and changing lightbulbs is not enough to stop icecaps and permafrost from melting. This course takes a critical look at the economic forces that cause climate change and must be challenged if a just transition is to be achieved."
The development of the course was informed by consultations with young people, teachers, and experts in pedagogy, and is supported by youth climate action groups Fridays for Future and Schools Climate Action Network. The specification is based on active learner-centred methodologies, democratic citizenship, and place-based learning.  
Commenting on the development of the short course, a member of the youth advisory group said: "We learn about climate science in science and geography lessons, but there is no subject where we are able to build up amazing skills that are needed for activism." Another member commented that the course will "offer a really full education about these issues and empower students to be able to take action or learn more themselves. I think the best part is how it focuses on critical thinking and activism skills." 
At North Wicklow Educate Together Secondary School, students can choose Climate Action as a Junior Cycle short course and classes take place in their outdoor classroom. Two first year students recount their experiences:  
"We are learning about trees, flowers. plants and how they're interconnected. It's fun being outside." – Grantas Urbonas. 
"In our Climate Action short course, we learn about the climate crisis and what we can do to help. I like being able to do things that help the world." – Naoise Murphy.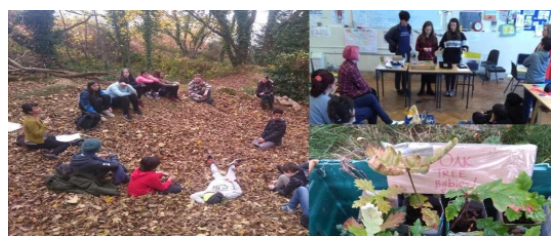 Pilot coordinators Sian Cowman and Nancy Serrano have organised a series of online training sessions for teachers and are in the process of developing a set of resources to support the teaching of the short course. 
The pilot programme is currently recruiting interested schools to teach the course and participate in the second year of the pilot for the school year 2022-23. If your school might be interested, there are a number of opportunities to get more information and express interest in the course: