Today (May 17th) is International Day Against Homophobia (IDAHO), and this year's theme is 'Combating Homophobic and Transphobic Bullying in Our Schools'. The day aims to promote the ideals of a world without homophobia and transphobia in which everyone can freely live their sexual orientation and the gender identity they wish to live in.
This is an important event to mark on the school calendar. Speaking about the event, Paul Rowe, CEO of Educate Together said:
Undoubtedly, homophobia is a problem that arises in primary and post-primary schools, and it can have long-term repercussions for children and families alike. Educate Together is committed to tackling homophobic and transphobic bullying in all its forms.
This July, Educate Together is offering a professional development course for teachers challenging homophobia; an initiative which is long overdue in Ireland. This course was developed in 2011 by Educate Together in partnership with BelongTo, and with the support of the INTO. The course is open to all primary and post-primary teachers and principals. It will give them the confidence and capacity to address homophobia in their schools, for example by: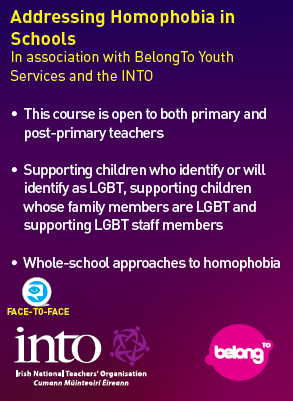 Developing whole school approaches to homophobia;
Enhancing pastoral care of all pupils who experience homophobic bullying;
Promoting equality for pupils who may identify as Lesbian, Gay, Bisexual and Transgender (LGBT);
Promoting equality for pupils who have LGBT parents or family members;
Enhancing understanding of relevant equality legislation.
Educate Together is an education movement founded on principles of equality and human rights. Our schools provide an environment in which the identity of each child is equally respected and celebrated. Our schools give pupils an education which celebrates difference – social, cultural and religious – and promotes critical thinking and active citizenship. We hope that our students will be active in creating a more open, equal society that benefits fully from the contribution that every one of its members can make.