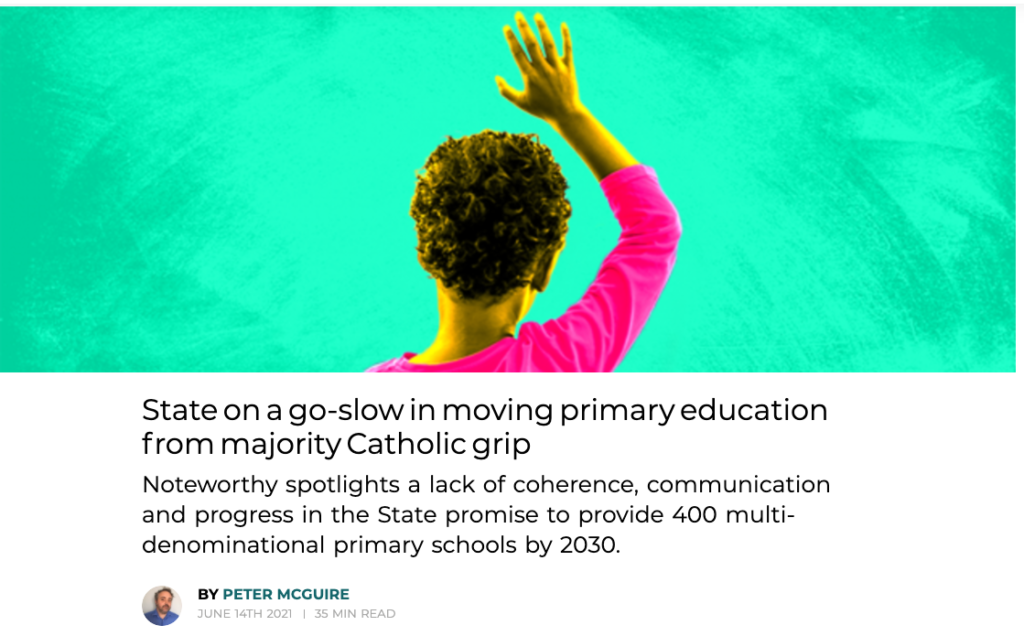 Educate Together welcomes the publication this week of two reports on thejournal.ie / Noteworthy spotlighting the lack of progress in the Government's commitment to provide 400 multi-denominational primary schools by 2030.
The reporting revealed that the Department of Education's plan to transfer the patronage of schools to non-religious organisations has no dedicated programme budget and no roadmap or interim targets:
The reporting further revealed that the lack of choice in the primary education system is having a profound impact on many children and families in Ireland:
It is now undeniable that the pace of change in this area has been far too slow to date. Despite over a decade of commitments from successive Governments to diversify choice in the primary school system, just 13 equality-based / multi-denominational schools have been established under this process. There are still five whole counties in Ireland that have no equality-based primary school options.
Educate Together has succeeded in establishing schools in eleven areas* that were identified for change through Department surveys in 2012 / 2013. These schools are successfully providing choice for families in these areas, despite many challenges. Educate Together remains committed to supporting parents in the 12 remaining areas** which were promised change by the Government in 2013 as well as communities in other parts of the country who are seeking change.
It is clear to Educate Together that further attempts to reform the system will not be successful without strategic investment to incentivise change. Resources, financial support and a clear plan of action are what is now needed to make real change happen.
To increase the diversity of school type in Ireland on a significant scale, Educate Together makes a number of recommendations:
Establish a Citizens Assembly to break the log-jam preventing schools from being opened or transferred in areas where the population is not growing.
Publish a clear government strategy to increase equality-based provision, in order to achieve the Government's own target of at least 400 multi-denominational primary schools by 2030.
Properly resource the Department of Education to enable it to reinvigorate the divestment process.
Work with communities to ensure the provision of clear, non-partisan information on school transfers, and to ensure informed and meaningful consultation at local level.
Expand and prioritise the transfer of viable schools to equality-based, multi-denominational and non-denominational school patrons in line with proven parental demand.
A clear government strategy to increase equality-based provision – complete with a dedicated programme budget and targets – is long overdue.
* Fermoy ETNS, Castlebar ETNS, Riverview ETNS, Tuam ETNS, New Ross ETNS, Malahide / Portmarnock ETNS, Trim ETNS, Tramore ETNS, Newtownwhite ETNS, Canal Way ETNS and Westport ETNS.
**Arklow, Clonmel, Cobh, Dungarvan, Kells, Killarney, Loughrea, Nenagh, Palmerstown, Passage West, Shannon and Whitehall.