Educate Together is delighted to announce Padraig Conaty as newly-appointed Principal of Harold's Cross Educate Together Secondary School (Harold's Cross ETSS), opening in 2020.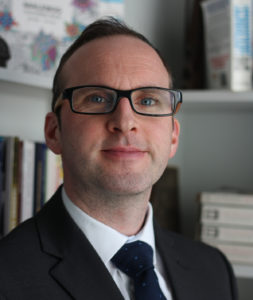 Padraig, who is a native of Lavey, Co. Cavan, comes to Harold's Cross ETSS from North Wicklow Educate Together Secondary School where he has been Deputy Principal since the school opened in 2016. 
Prior to this, Pádraig worked as Head of Third Year in St. Andrew's College, Blackrock, Co. Dublin where he taught English and also coordinated School Self-Evaluation, Green Schools Committee and the College's Anti-Bullying Ambassadors Programme. 
Pádraig graduated with a BA in English and Economics in University College Dublin (UCD) in 2003. This was followed by a Masters of American Studies also in UCD. In 2006, Pádraig completed a Postgraduate Diploma in Education in NUI Galway. He was awarded a Masters in Education in UCD and also studied in Jagaellonian University, Krakow, Poland. Pádraig is passionate about innovation and creativity in education and has completed a postgraduate diploma in innovation, creativity and entrepreneurship in the Innovation Academy in UCD. More recently, Pádraig completed a coaching diploma accredited by the European Coaching and Mentoring Council. 
Pádraig has also worked as a Junior Cycle for Teachers (JCT) English Associate supporting the provision of continuous professional development support for teachers of English and has supported the National Council for Curriculum and Assessment (NCCA) with their Junior Cycle English Quality Assurance process.                                                                                        
Pádraig's vision for Harold's Cross ETSS is to lead the creation of an environment where students are engaged in their learning, supported by the entire school community to achieve the appropriate level of academic excellence and to be the best version of themselves. Central to the vision is the importance of enabling and supporting authentic student voice to ensure that all students are active and involved participants in the life of their school. 
Said Pádraig on his appointment:  
"It is an immense honour to be entrusted with leading Harold's Cross Educate Together Secondary School and I look forward to engaging with students and families towards building an equality-based, inclusive and dynamic learning community in Harold's Cross. Harold's Cross Educate Together Secondary School will be a centre of educational excellence where every learner will be valued and encouraged to achieve their full potential.'
 Said Gerry McKevitt, school manager, Harold's Cross ETSS:  
"I am delighted to welcome Padraig to the Harold's Cross ETSS team. With his impressive academic background, his track record of innovation and his enthusiasm for raising the student voice, I'm sure that Padraig will be a fantastic fit.'
Harold's Cross ETSS will open to First Year students in August 2020 on the site of the former Harold's Cross Greyhound Stadium. The school will be based in prefabs while its permanent accommodation is being built on the site. Enrolment for First Year students is currently ongoing.  Those interested in enrolling for subsequent years should sign up to the Harold's Cross ETSS mailing list here.