Educate Together is delighted to announce the appointment of Jonathan Browner as Principal of Goatstown/ Stillorgan Educate Together Secondary School (ETSS).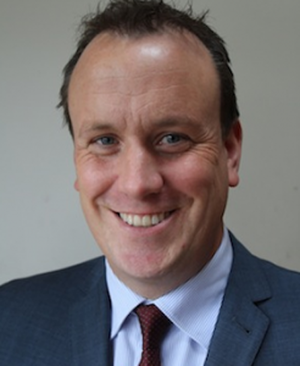 Jonathan has been Principal of North Wicklow ETSS since the school opened in 2016. Under Jonathan's leadership, the school has been at the forefront of providing an outstanding equality-based education in Bray, County Wicklow. The school underpins its focus on academic excellence with superb provision of supports for students with additional needs. The school has opened a special class for children with autism and has also worked closely with the National Council for Curriculum and Assessment (NCCA). The school has also been at the forefront of climate activism. Under Jonathan's leadership, the school has grown from a student body of 34 to a diverse community of nearly 300 students, teachers and other staff in just four years. 
Previously Jonathan taught Music, History, CSPE and SPHE at Sandford Park School, Ranelagh for 24 years. He was Transition Year Coordinator, School Self Evaluation (SSE) Coordinator, yearbook editor, form teacher, musical director and conductor of many award–winning choirs and music ensembles, amongst other roles at Sandford. 
Jonathan also lectured in teacher training at Trinity College Dublin and at the Royal Irish Academy of Music for nearly a decade. He taught at the DIT Conservatory of Music and Drama and was an external examiner for a number of years there. Jonathan remains an accomplished conductor and accompanist.  
Jonathan has also collaborated with the Professional Development Service for Teachers (PDST) and has worked with the State Examinations Commission (SEC). He holds a Bachelor in Music Education degree from Trinity College Dublin (1992), a variety of performance and teaching diplomas from the Associated Board of the Royal Schools of Music in London and Trinity College London. He also achieved a First-Class Honours Master's Degree in Education from Trinity College Dublin (2002). He has continued to engage in a myriad of training opportunities and professional development provided by Educate Together, the National Association of Principals and Deputy Principals (NAPD), the Centre for School Leadership (CSL) and the Joint Managerial Body (JMB). 
Said Jonathan: 
"I am proud to bring over 28 years of experience to bear on a community close to home. I am honoured and excited at the potential of leading the best school in our area. I'm looking forward to listening to the hopes, needs and concerns of those who will share in our exciting adventure together. Let's work together to make our school a bench mark for national excellence in achievement, equality of access and parity of esteem." 
Said Liz Martin, Regional Development Officer, for Goatstown/ Stillorgan ETSS:
"I couldn't be happier to welcome Jonathan to the Goatstown Stillorgan ETSS school community. Jonathan has proved to be a visionary leader in North Wicklow and I look forward to working with him in the establishment of Goatstown Stillorgan ETSS." 
Goatstown Stillorgan ETSS will open to First Year students in temporary accommodation while its permanent home is being built on the Irish Glass Bottle site on the Goatstown Road. Enrolment for First Years is ongoing – enrol here. Families interested in enrolling for subsequent years should sign up to the school mailing list here.