Educate Together is delighted to announce David Cashman as the newly-appointed Principal of  South Lee Educate Together National School. David will lead the school community in their new school that will open in the city this August.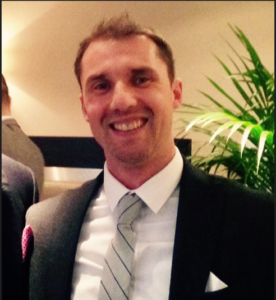 David, who is a native of Blackrock, Cork, comes to South Lee Educate Together National School from Sundays Well Boys National School, where he has been Principal since 2015. Previous to this David held the Deputy Principal position.
He began his teaching career in Scoil Padre Pio in 2009 before moving to teach in Sundays Well BNS later that year. David has been involved in many initiatives throughout his career including the Active Schools Flag, Healthy Schools Flag, the Digital School of Distinction award and well as the EU SMILES project to raise awareness among pupils on sustainable mobility issues in urban environments.
David has a particular interest in outdoor play as a learning methodology. David believes children learn through play and it is important for schools to provide the opportunity for children to play outdoors where they can run, climb and explore.
David is a trained leader in the Incredible Years Teacher Classroom Management programme. The incredible years acts on the belief – that a child is the most precious of all human beings, and the ability to withstand the emotional and social challenges as a teenager, clearly rests upon a caring relationship between parent, teacher and child. David aims to use his knowledge of the programme to build a warm and positive school climate where children can grow to become kind, caring and resilient citizens of today's world.
Says David,:
'It is an honour to be appointed Principal of South Lee ETNS. My vision for the school aims to create an environment of inclusivity and equity. Children will be at the heart of everything we do and I hope to make school an active learning environment that is child-centred and where children are safe, happy, confident, engaged, respected and not afraid to make mistakes or ask questions. I hope to achieve this using a relationship based approach where positive relationships are built between the school, children and parents but also where pupils and parents voices are heard.'
David continues:
'I look forward to getting to meet the new parents and pupils of South Lee ETNS as we begin an exciting new chapter in setting up a new school for the whole community.'
Said Orla Burke, Chair of the South Lee ETNS Start-up Group:
'This is wonderful news for parents who campaigned for this school and for the local community and we look forward to working with David as this new school grows and flourishes not only in the months but into the years ahead.'
A distinguished hurler from a famous GAA family, David played senior hurling with Blackrock GAA Club for two decades and also represented Cork and is currently involved as an under-age coach.
Said Niall Wall, School Manager and Regional Development Officer for Educate Together on David's appointment:
'This is a fabulous development for the school to have recruited such a high calibre principal and we look forward to David commencing and engaging with families towards building a wonderful school community in South Lee ETNS.'
David holds a BA in Economics and Geography, a Postgraduate Diploma in Business Economics and a Postgraduate Diploma in Primary School Education. He also holds a Postgraduate Diploma in Educational Leadership.
Accommodation for the school is currently being sourced by the Department of Education and Skills. Enrolment for Junior Infants starting school in 2019 is open here.