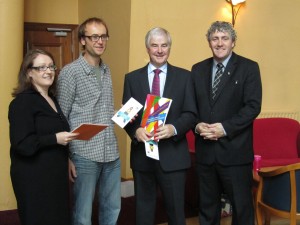 As a result of the high level of interest from parents and guardians in Enniscorthy, an Educate Together Start-up Group has been established in the area and will now proceed to make contact with the many parents who have expressed interest in setting up an Educate Together school.
The local group plans to open a pre-enrolment list by the end of September so that parents and guardians in Enniscorthy can register their child's name to attend the Educate Together school, if the application is granted by the Department of Education and Skills.
Ms Annette Soraine, from the Educate Together Start-up Group in Enniscorthy said: We wanted to set up a group in the area to recognise that parents and guardians have a right to choose the type of education they would like for their child. So far, the feedback from parents and guardians has been fantastic and interest in this type of education is steadily growing. We are now working with Educate Together to develop a plan to open an Educate Together school in Enniscorthy and would invite anyone with an interest to come along to the meeting on Tuesday September 28th at 8pm.
Educate Together is the representative organisation of the Educate Together schools and associations throughout the Republic of Ireland. It owes its origins to the movement to establish new multi-denominational primary schools, which emerged in the late 1970s and early 1980s.
Mr Niall Wall, Educate Together Regional Development Officer for Ireland South said: The demand we are seeing for an Educate Together school in Enniscorthy is mirrored in other towns and cities across Ireland so we are delighted to see plans being put in place to make this type of education available to the parents and children of Enniscorthy. We are looking forward to hearing the Department of Education and Skills plans for this area and are hopeful that the demand we are seeing will be addressed.
Today there are 58 Educate Together schools throughout Ireland, including two in County Wexford, in Gorey and Wexford Town. Educate Together aims to meet a growing need in Irish society for schools that recognise the developing diversity of Irish life and the modern need for democratic management structures. In particular, Educate Together guarantees children and parents of all faiths and none equal respect in the operation and governing of education.
Educate Together Schools are fully recognised by the Irish Department of Education and Skills and work under the same regulations and funding structures as other national schools. However, they have a distinct ethos or governing spirit that is child and parent-centred in its approach.
The details of the Pre-Enrolment meeting are as follows:
Date: Tuesday September 28th 2010
Time: 8pm
Venue: Riverside Park Hotel, Enniscorthy.
ENDS
For further information:
Enniscorthy Educate Together
Phone 087 161 5910
E-Mail et.enniscorthy@gmail.com
Web www.educatetogether.ie
Annette Soraine can be contacted at 087 161 5910