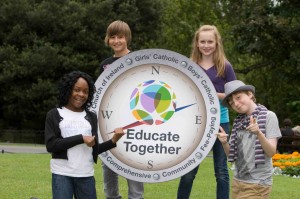 Download the full "Where to Next?" Report
Download the Executive Summary
Educate Together launched it's Where to Next? research on second-level educational destinations of its graduates today in Dublin. This follows yesterday's announcement by the Tánaiste of an expert group established to deliver a transparent and accountable framework for second level patronage.
The Destinations research shows children leaving Educate Together primary schools go on to attend all types of post primary schools with a preference shown for co-educational models. The report also cites a 90% preference expressed by parents for second level Educate Together schools for their children if available.
Speaking at today's launch in Buswell's Hotel, Paul Rowe Educate Together CEO stated Where to Next? shows us that parents whose children go to our schools, try to send them on to second level schools that best match our ethos. The vast majority of them would prefer to have an Educate Together school to go to instead. The Tánaiste's patronage framework initiative is welcome – we have been calling for a transparent process by which school patronage can be democratically determined for many years. We look forward to the expert group green lighting our second level applications that will allow us without further delay to deliver the model of second level education our research shows us is in high demand.
Educate Together has longstanding applications lodged with the Department of Education and Skills to open second level schools in a number of locations nationwide. It welcomes the establishment a clear framework on second level patronage but cautions on the urgent resolution of a number of existing second level school applications, particularly in Lucan and Gorey, where a shortage of school places has already forced the implementation of emergency accommodation procedures.
In relation to the Minister's plans to establish a new Lucan second-level school as a formal partnership, Educate Together has been asked to enter discussions with the VEC on an approach to achieving this. While the organization does not discount productive discussions with the VEC these discussions would be entered into on the understanding that any partnership must facilitate delivery in full of Educate Together's blueprint for second level education. In addition these discussions should not override Educate Together's right to have its longstanding applications adjudicated upon under existing education legislation.
Emer Nowlan, Head of Education and Network Development for Educate Together says "Parents have been campaigning for an Educate Together school in Lucan for years now. To meet this demand any proposed new model would have to provide a real choice for parents in the area – it must be a brand new type of second-level school which delivers Educate Together's specific democratic ethos"
Educate Together's Blueprint for Second Level education proposes a new approach to the delivery of the second level curriculum. The approach is learning centered rather than exclusively focused on teaching to a test. It also encourages and fosters the development of key life skills such as critical analysis, problem solving, independent research, leadership, teamwork and innovative thinking. Educate Together second-level schools will build on the values of democracy, equality of esteem, cultural awareness and parental participation which have been tried and tested for over 30 years in its primary schools.
Established in 1978 with the opening of the Dalkey School Project, Educate Together is patron to 58 multi-denominational primary schools nationwide. It applied to open its first second level school in Lucan in 2007, where it has five primary schools in operation. Educate Together's Blueprint for second level has attracted widespread acclaim from educationalists, industry and parent and student groups. It has also been endorsed by representatives from all the major political parties in the Oireachtas.